Featured Artist : Claudia Cappelle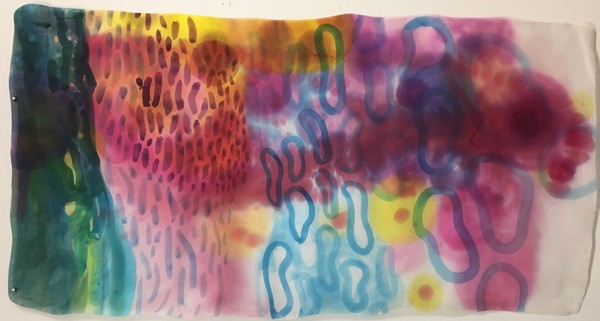 Artist Bio / Statement
Claudia Cappelle is currently in the MFA program at Towson University and an artist in residence at the Creative Alliance in Baltimore.
During the Covid pandemic I wanted to express the ephemerality of life. This awareness brought an unexpected change in the materials used in my artmaking process. I began using silk and Jacquard Green label dyes to create a body of work entitled "A Breath of Fresh Air".
The silk fabric possesses a diaphanous, lustrous organic quality and delicate texture. I love the way the dyes absorb into the natural fibers to produce subtle layers of transparent color that become infused with richness. Only black, magenta, yellow, and cyan were used to create infinite variations of color! I also discovered that unlike the muddiness produced by a succession of layers using watercolors on paper, the dyes can be layered repeatedly on the silk to achieve depth and clarity.
Contact Info