Featured Artist : Kathryn Housepian
The Fourth Sister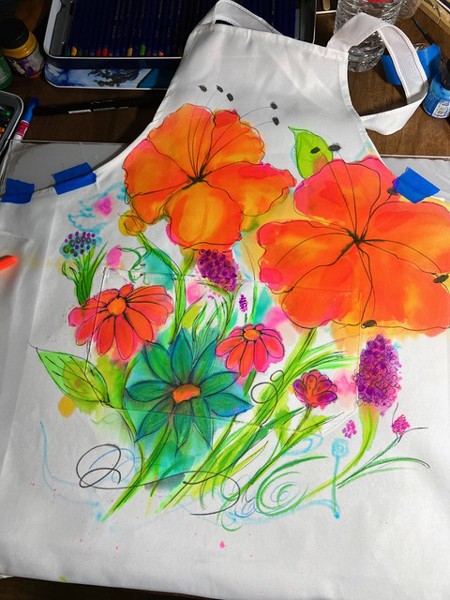 Artist Bio / Statement
I work in many different mediums, including encaustic, clay, glass, acrylics, oils, fabric, ink and more…I love looking at something and wondering what it would look like if I did this or that to it. I am fascinated by flowers because they cheer me up. I have my work at local art shops. I just love making people happy and I love working with my hands. Oh, and I love color too.
Anyway I have been painting silk scarves for quite a few years and have added several products including t-shirts, tank tops and the Berkeley shirt.
I use Setacolor (ESPECIALLY the glittery paints!), Jacquard's Dye-na-Flow and various markers. I carefully follow directions but I also enjoy experimenting. I painted a giraffe t-shirt for my young granddaughter who wore it for YEARS and yet the color remained brilliant and the design distinct. The paints really are great.
So here are a few of my pieces. I have a public Facebook page under my name and a small LLC called The Fourth Sister.
Contact Info