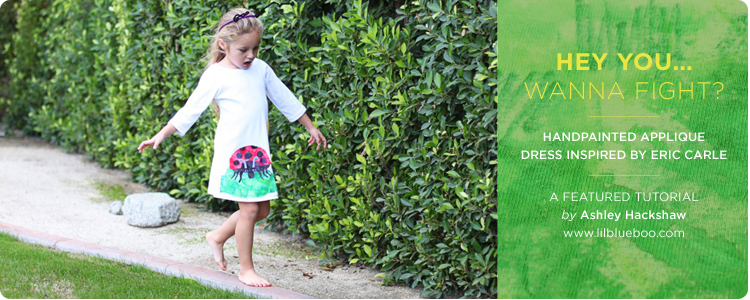 Earlier this year in the first series of Once Upon a Thread I made a dress inspired by The Giving Tree....it was one of my favorite books growing up. This time around I let Boo pick the book and she chose The Grouchy Ladybug by Eric Carl. So I made her a Grouchy Ladybug-inspired outfit. I used hand painted fabric pieces to create an Eric Carle-inspired applique.
Shopping list:
SetaScrib Fabric Markers
Iron
Sewing Machine
Let's get started!
First I made a plain white dress from my Sweet A-Line pattern.....but you can use any basic t-shirt or dress for a boy or girl. I have a great starter set of Setacolor Transparent Fabric Paints that I got from Dharma Trading.
I took some plain white cotton knit fabric and started unevenly painting it with colors needed for my collage. Here is green for the grass: