Marabu Textil Plus 50ml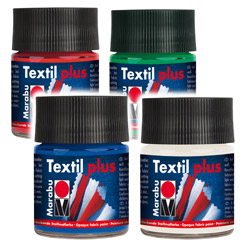 USE FOR: Hand Painting, Stenciling
USE ON: Dark fabrics, light-coloured fabrics, and fabrics with max. 20% man-made fibers
Product Details
List Price
1-9
10+
50 ml jar
$5.99
$

3.69

$3.39
Average Customer Review

Click here
to add or update a review for this product.
MOST HELPFUL REVIEWS

6/30/2017
I ordered the Marabu Textil Plus to print my hand carved stamps on fabric. It is a creamy ink that rolls out well on a plate with a soft rubber brayer. I applied the Marabu ink to the stamp with the brayer and the fabric took the ink better than other fabric inks I've used for stamping. After seeing how nice this product is to work with I have plans to try it with other techniques.
Was this review helpful?


6
of
6
users found this review helpful.