UNIQUE! MANY USES! These approximately 50 year old collectible tools called Tjaps (pronounced Jops or Chops), have been made and used on the island of Java for over a century. They are handmade of copper strips, carefully cut, shaped and soldered into fabulous shapes and patterns. They are used by Batik artists in Java by dipping them into hot wax, shaking off the excess, and then stamping the wax onto the cloth. Aligning the edges of each consecutive stamp creates patterns which run the length and width of the fabric. Scroll down for more info and ideas, and look for the link to order further down this page.
In addition to wax, we ourselves have also successfully used them with Jacquard's Color Magnet, Cleanline Resist, and thickened dye or with fabric paint. Customers have reported using them to make rubbings with Shivastiks, or to emboss velvet! (By placing the velvet, pile down, on the tjap, then heating the back of the fabric with an iron) We were blown away when using them with our new iCraft Deco Foils and foil glue, or the glitter glue, and they also work nicely with our new Soy Wax. (make sure you wash the glue, paint, or whatever, off immediately after use with warm soapy water if you want to keep these nice, and also dry them quickly - either in the oven on the lowest heat setting for 5-10 min (Make sure you don't forget them! And have the exhaust fan on), out in the sun, or with a blow dryer as the iron handles will rust.
Remember, these also make great gifts, both for the collector or the batik or stamping artist in your family. They are also fantastic to collect, as they are works of art in and of themselves and are so wonderful just to look at. Check out some projects you can use them for: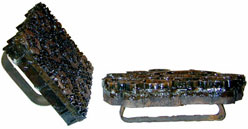 Indonesian Copper Batik Tjaps
Sorry, no more copper batik tjaps. All have been sold. It is harder and harder to find good ones, so we don't know if there will be any more sales. But if we do ever find any more, we will let you know!
If you want to hear about any future shipments, do send us an email, just once, to tjaps@dharmatrading.com for notification the instant they go up for sale. We are keeping that list on going, so no need to email it more than once. We set up this preferential tjap email list because our newsletter list takes awhile to go out, and the folks who get their newsletter later often find most of the tjaps are sold by the time they get to them. Whenever we get new shipments, we will first email the folks on this list, then if there are some left, we will notify folks who have opted in for our monthly e-newsletter to sell the rest. If you do not already get our monthly e-newsletter and would like to join our mailing list, follow this link and enter your email address. We also post the announcement on Dharma's Facebook page the day they go up for sale, so this is also a good way to get notification.
We cannot take returns on these unique, one of a kind items.
Check out our festive tutorial - Applying Foil with Indonesian Copper Tjaps, also our new DVD, "Using Tjap Stamps and Basic Batik" by Kathie George!