Jacquard Basic Dye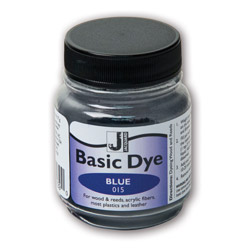 USE FOR: Hard to dye substrates
USE ON: Acrylic, wood, reed, pine needles, straw, potpourri, wigs, buttons, shell, bone, dried flowers, bamboo stalks, and more!
Product Details
1-9
10+
1/2 Oz.
$

3.29

$2.99
1 lb. Special Order
$

30.99

$28.59
Average Customer Review

Click here
to add or update a review for this product.
MOST HELPFUL REVIEWS

11/28/2017
These work really well on pine needles and give me the bright results that are so hard to achieve using regular fabric type dye. They do take a lot of rinsing out though.
Was this review helpful?


2
of
2
users found this review helpful.