Dharma Hot Water Reactive Dyes
Brilliant! Permanent!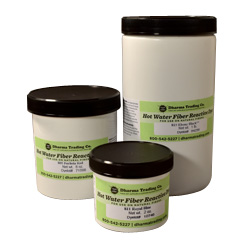 USE FOR: Tub Dyeing for intense dark colors, Tie-Dye, Low Immersion Dyeing, Dye Painting, Screen & Block Printing or Stenciling, even Tie-dyeing Silk in a Microwave
USE ON: All natural Fibers (Cotton, Rayon, Hemp, Silk, etc.), Wood, Cane, and Rattan
Average Customer Review

Click here
to add or update a review for this product.
MOST HELPFUL REVIEWS

3/17/2018
I love this grey. It is as the other reviewer mentioned definitely on the cool side but the it doesn't split of misbehave. Single pigment shade is great. It now is my main tinting dye instead of warm black. Plays well with other fiber reactives colors and with Vinyl Sulphons. It definitely needs heat though. I batch mine at 110F for 24 hours. I've also used this on wool at a pH of 4 (citric acid solution buffered with acetate)Now Dharma if you can get that single pigment black - CI Fiber Reactive Black # 5 I'd be super psyched. I can only find it in Dylon in tiny packets.
Was this review helpful?


5
of
5
users found this review helpful.
8/13/2017
I used the Neutral Grey to dye 100% cotton and cotton canvas. While I did find that the colour was consistent I would not call this grey "neutral" at all. It is very blue I would call it blue-grey if anything. Its still a nice colour and the product worked well I just felt like the name wasn't accurate and the colour they do show on the site isn't a great indicator of the tone of the dye. Also read about how to dye your fabric before you make your purchase. There are products like Calsolene Oil (and even salt) that I didn't realize we necessary or helpful until after I had made my order.
Was this review helpful?


10
of
14
users found this review helpful.

7/10/2018
817 Neutral Grey is lovely! Batched it for about 48 hrs to be sure (Sweden) and I got a very nice and pure grey.
Was this review helpful?


2
of
2
users found this review helpful.
2/3/2020
Well I read the reviews saying the neutral gray was blue. So I added some ecru to try to warm up the gray. It did not work it's blue. So now I have the fun task of another day in the dye vat trying to fight back the absolute blue-grey that I got using hot water on linen. Wish me luck. Im going to take the pure white linen that almost looks purple (from the ecru I assume) into a dusty green. I hope. Hope to brown out or warm up the other blue linens with some browns. Wish me luck!
Was this review helpful?


1
of
5
users found this review helpful.