iDye for Natural and Poly Fabrics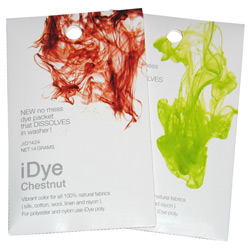 USE FOR: Quick, easy, no fuss dye jobs, solid color dyeing, single color tie dye
USE ON: Natural fabrics including rayon, hemp, linen, cotton, silk and SOME Nylons (iDye Natural), polyester and nylon (iDye Poly)
Product Details
List Price
1-9
10+
1/2 oz.
$5.19
$

3.89

$3.49
Average Customer Review

Click here
to add or update a review for this product.
MOST HELPFUL REVIEWS

5/1/2016
I have a LG front load HE washer. I used the IDye Natural on custom slipcovers only doing about 2 cushion covers at a time since you can only do 2-3 lbs per load with 1 packet. I have a SANITARY setting on my washer that gets EXTRA HOT and that was the solution to make the colors vivid and not blotchy. My first load I only used "hot" water setting and the results were so-so but not great. So whatever makes your front load washer go to extra hot for a good length of time is best! Make sure to follow the directions on the Jacquard website for front loaders regarding prepping the color packet and the non iodized salt.
Was this review helpful?


27
of
29
users found this review helpful.

5/21/2008
This is really a great simple easy to use dye that can be done just in your washing machine. The colors are vibrant on natural fabrics. I dyed a velour shirt and a cotton shirt with turquoise and the color turned out very vibrant and hasn't faded or bled at all. Just make sure you can keep resetting the agitate cycle!
Was this review helpful?


29
of
32
users found this review helpful.

11/19/2019
I continue to use the iDye Poly. The dye has let me do so much more with sewing projects. The color is determined by the starting item fabric buttons velcro zippers etc no end to sources. I do a swatch test and only a pinch of dye to see the initial results. Color theory works well to adjust the color for the final results. Some of the colors need more color correction than others. I usually use an RGB color profile. For certain colors a CMYK color profile works better. Sometimes the color barely grabs other times the color is intense have to try to see if it works. Like most dying the results are upon you do do the work to get the best results. I just did a waterproof breathable fabric to take the Spring Green to Chartreuse looks great (used yellow). Dyed zipper tape. etc. Just get the basic colors and use color theory and have fun. I use dedicated dye pots on an induction cook top (variable temp control and super rapid temperature adjustment works best). I only have the 5 basic colors + grey and black for all of the dying I use the iDye Poly for. Good luck and experiment.
Was this review helpful?


9
of
10
users found this review helpful.

6/23/2016
I just dyed turquoise a white polyesternylon Title Nine "Cuz she says so" bra with iDye for Poly Fabrics. Followed instructions on packaging except I only simmered not boiled it for an hour. It was pretty scary as this is a $60 bra. At this moment after rinsing washing twice am letting it hang dry it is a beautiful color. A little tonal contrast as the dye took more on where the fabrics were different but a very nice look. We will see if it washes out over time or if my skin turns turquoise when I wear it LOL. Also since I had the dye in the pot did a little tie-dye on a length of fabric of unknown content...it turned out vibrant so I can make something to match the bra. Such fun!!
Was this review helpful?


8
of
9
users found this review helpful.

7/1/2008
iDye rocks! I love being able to use a Natural and Poly together for garments of unknown provenance. However Lilac JID 1414 really has come out indigo not purple at all. The poly bits in the project took Violet JID 1450 to a beautiful purple shade. Can't get easier than iDye.
Was this review helpful?


15
of
17
users found this review helpful.
MOST RECENT REVIEWS

4/14/2022
I used the black dye on a thrifted 100%linen sheet. I added the salt and baking soda as directed inside the packet. It came out a dark brown with variations almost like a space dye. I must say I love it. I also used the olive green dye with salt as directed and it turned out gorgeous. Its on the lighter side but I love it also. I used the stove top method and stirred for 30 mins as directed. Very happy with this product.
Was this review helpful?


0
of
0
users found this review helpful.

5/17/2021
I came across this in my local art store (in UK - it's not a well known brand). I usually dye second hand clothesfabrics to give them a new lease of life and decided to have a go at dyeing a very old natural-coloured damaged wool blanket that arrived with my rescue cat and is used for her bedding. I used the hottest wash in the washing machine used salt as fixative and put it through a wool temperature wash afterward to get rid of excess. The colour looks good (golden yellow) but there seem to be quite a few darker spatter marks. I think there may have been almost invisible stains on the blanket before it was dyed which the dye has brought out it doesn't matter for this purpose but I would take more care next time in checking the item first before dyeing. On balance I would use this product again.
Was this review helpful?


1
of
2
users found this review helpful.
12/13/2020
The color is vibrant it's true. However you should know that the stovetop method emits fumes that will give you a headache. Wow the smell is pretty awful. Had to open all doors and windows in December. I think the washing machine method would be far preferable.
Was this review helpful?


2
of
3
users found this review helpful.

10/15/2018
Im in love! I bought a dress that was supposed to be sage but looked much more like a sea foam when it came. Poly chiffon so I didnt think I could dye it but it took the dye like a dream! I used diluted gun metal and the earthy sage color is gorgeous!
Was this review helpful?


4
of
5
users found this review helpful.

4/20/2018
FANTASTIC dyes so easy to use brilliant colors. Except for the black. It's kind of reddish purple black not black -black. So I'm looking for something better for black. Everything else - idye!
Was this review helpful?


4
of
6
users found this review helpful.

2/14/2017
Holy smokes this stuff is soooo easy to use. Almost always gives perfect results and when it doesn't it's usually my carelessness to blame.I have a huge fabric stash and the last place I lived let sun onto my fabric shelves - lots of pricey wools and silks were left with big sun fade marks. The iDye evens things out. I choose a slightly darker shade than the original fabric and viola!
Was this review helpful?


6
of
8
users found this review helpful.

10/19/2016
I love this product. I dyed a polyester beige bathing suit with the blue color and it showed as a royal blue. I followed the very simple instructions on the packaging with success. The next day I went for a swim with the dyed suit and it did not bleed at all. The only reason it does not get a 5 star rating is due to the fact that enough time has not passed for me to see if it resist fading.
Was this review helpful?


2
of
5
users found this review helpful.

6/14/2016
I got the iDye for cotton and the colours come out very differently to the picture & name. The 429 Gun Metal comes out dark blue with a taint of grey The 430 Silver Grey comes out a dirty greeny grey.The colour holds well after the third wash but the first few leaked dye onto other items so I recommend wash them seperately for a while.
Was this review helpful?


1
of
2
users found this review helpful.