Shopping list:
1 Skein "Toaga" Mohair (#YARN6)
Acid dyes (#AD). We used colors 605, 613, 616, and 634
You can use any colors you want, OR you could also use our new Dharma Acid Dyes (#DAD) in any color combination you want, in exactly the same way.
White Vinegar
Kieralon (#KDD)
Let's get started!
step 1
Presoak yarn in warm water with a few drops of Kieralon to thoroughly wet the yarn.
step 2
Use a pot large enough for the skein so it isn't overcrowded. Add enough water to just cover the yarn, push aside and add 1/2 cup vinegar. Mix with the water and turn yarn so vinegar water is evenly distributed throughout. Gradually bring up the temperature to right below a simmer.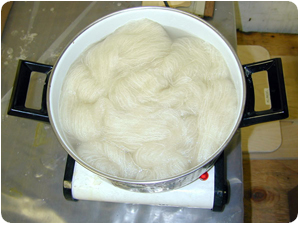 step 3
Meanwhile, mix your dye colors. This method works best if you use 2 or 3 colors that will go well together if they overlap and mix in the dyepot. We used about 1/2 teaspoon of dye powder to 1/2 cup of hot water.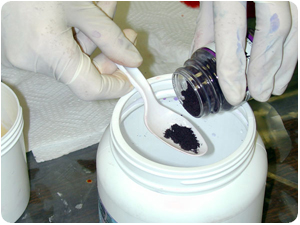 step 4
When the yarn is hot, turn once so heat is more evenly distributed and arrange yarn as desired in pot. Careful-it's hot!
step 5
Pour dye colors over yarn leaving space between each color. Using a rod, poke yarn so dye moves to cover white spaces between colors. The dye will "strike" quickly because of the heat. Be careful not to over-stir because you do not want the colors to migrate any more than necessary to cover the undyed areas of yarn. You do want to make sure the dye goes all the way to the bottom of the pot. Poke with your rod to control dye distribution. The heat can be turned off at this point.
step 6
The dyebath will start to turn clear quickly. Pull up a portion of the skein from the bottom with your rod and look for any undyed portions. If you see any white or pale shades, bring that part to the surface and pour on more dye over that spot, keeping it in the dyepot.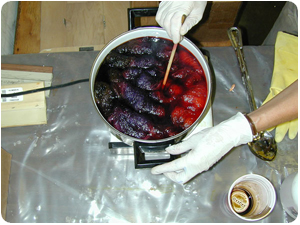 step 7
Once you are satisfied with the color distribution, allow to remain for at least 30 minutes or until lukewarm for maximum color yield. Cover the pot to keep heat in.
step 8
Rinse yarn carefully in same-temperature water with minimum agitation to prevent felting.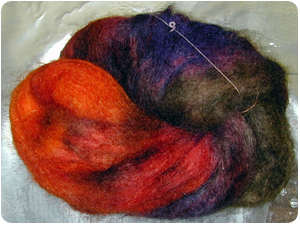 step 9
Remove excess water and allow to dry. We re-skeined to show how the colors will blend together when used in a project.