Shopping list:
Dharma Fiber Reactive Dye (we used: PR#3 Golden Yellow
Shiva Paintstiks (we used: Iridescent Leaf Green, Iridescent Green, Iridescent Orange, Iridescent Purple, Iridescent Light Gold, Iridescent Red, Iridescent Copper)
Shiva Paintstik Stencil Sets (we used 703 Oak Leaves and 704 Maple Leaves)
Book: Paintstiks on Fabric (optional)
Paper Plate(s)
Iron
Let's get started!

Dye The Table Runner and Napkins: We used Fiber Reactive Dye color #3 Golden Yellow for a nice warm Autumn yellow. Directions for solid color dyeing with Fiber Reactive Dye can be found here. Iron the runner and napkins after they have been washed out and dried so you will have a smooth fabric to work with.
Pick the colors you are going to work with. Remove the skin on the tip of the Paintstik, this is easy to do with a paper towel. Rub a generous amount on to the paper plate. You want to make a sort of palette. Do this with all your colors, you may need more than one plate.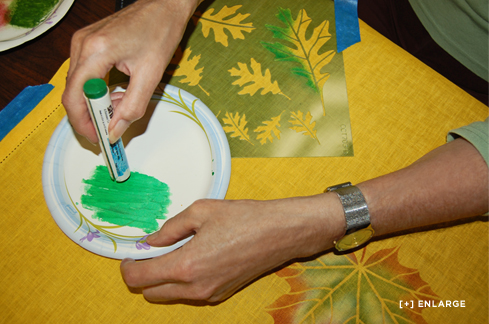 Load up the stencil brush from your palette. It is best to start with the lightest color you are going to apply. Place your stencil on the fabric where you want the design. It may help to tape it down with a few small pieces of masking tape.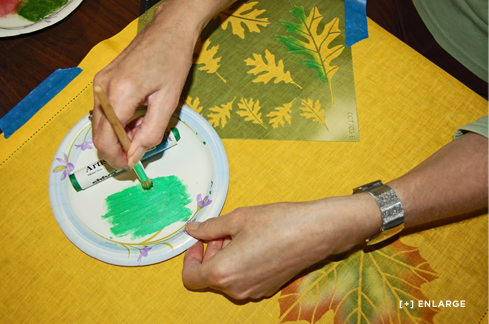 Start applying the Paintstik with the brush, using a rubbing motion to apply it evenly.
Once you have covered part of the leaf select the next color you want on the leaf. Load up another stencil brush and apply it the same way. Be sure to overlap the two colors slightly so you can blend them for a nice transition.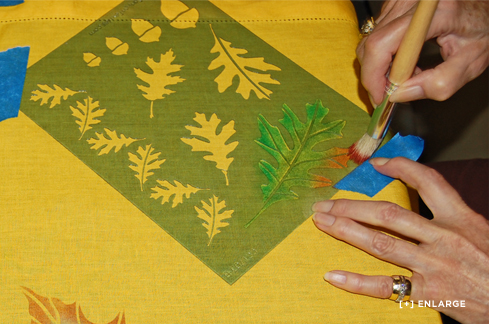 When you think you like the look, gently lift up the stencil and check your results. If you need to, carefully lay it back down and work in more color. Otherwise, carefully pull up the tape and move the stencil to the next area. Keep working in this way over the runner until you are happy with the design. By using different styles of leaves you can add a lot of interest to the piece.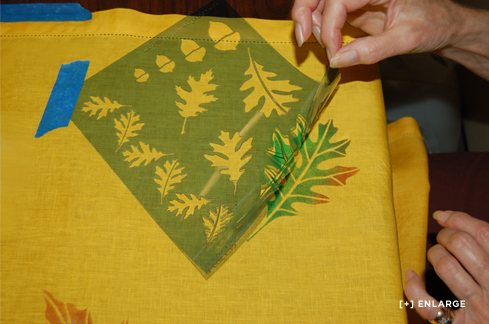 When you are all finished you must let the Paintstiks cure for 3-5 days and then heat set the Paintstiks with an iron.
Here is the finished runner with coordinating napkins. We used the acorn stencil on the napkins to tie them in with the Autumn theme of the runner.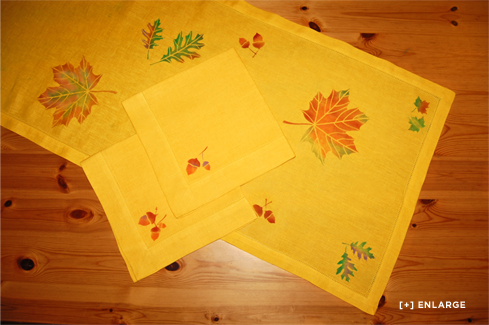 Now it is time to set the table and enjoy the food!