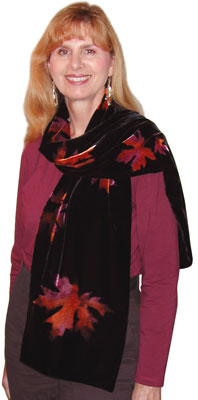 Let's get started!
1. Prewash velvet in Synthrapol, dry in warm dryer.
2. Apply discharge paste to velvet using a stencil, a screen or handpaint it on. Make sure you evenly apply the paste to get an even distribution.
3. Allow to dry thoroughly.
4. Place a press cloth on velvet side over first leaf discharge design. Heat your iron on the silk setting and using lots and lots of steam, slide your steaming iron over and over the design until you see the color lift. Repeat process until all of the leaves have discharged.
5. Wash velvet in Synthrapol, dry in warm dryer.
6. Dissolve 1/2 tsp. Soda Ash in a small amount of hot water for each color to be used. Be sure it is thoroughly dissolved and cooled before using this liquid to dissolve the dye powder. Add the dye powder and mix into a paste. Add about 1/3 - 1/2 cup of water to each color.
7. Apply dye with a foam brush or stiffer brush to discharged areas and let sit for about 4 hours. Wash velvet in Synthrapol and dry in warm dryer.
8. Fold velvet in half lengthwise and sew together.