Shopping list:
Dyeable cotton yarn in hank form, loosely tied in at least 4 places (#YARN). We used #YARN8, "Inca" Cotton.
Procion MX dyes (we used #21 Teal, #19A Lilac, #56 Azure Blue, #18A Ultraviolet)
Urea (#UREA)
Soda Ash Fixer (#FIX)
Foam Brushes - one for each color (#FOAM)
Kieralon (#KDD)

Note:

We used "Inca" Cotton (#YARN8) and Procion colors: Teal (#21), Lilac (#19A), Azure Blue (#56), and Ultraviolet (#18A).
Let's get started!
Soak cotton yarn in hank form (not in pre-wound ball form), loosely tied in at least 4 places, in 1 teaspoon Synthrapol and enough water to cover hanks with room for the cotton to absorb the water. Let sit for about 1 hour or until the yarn is thoroughly wet. Check whole skein to make sure all of it has become wet (some fibers are difficult to completely wet out).
Remove yarn from soak water and squeeze out some of the moisture.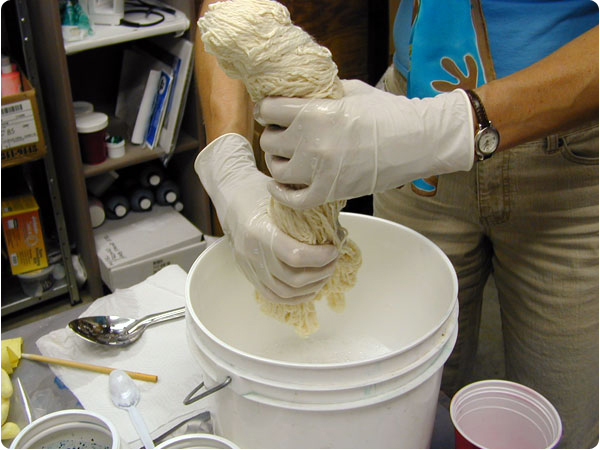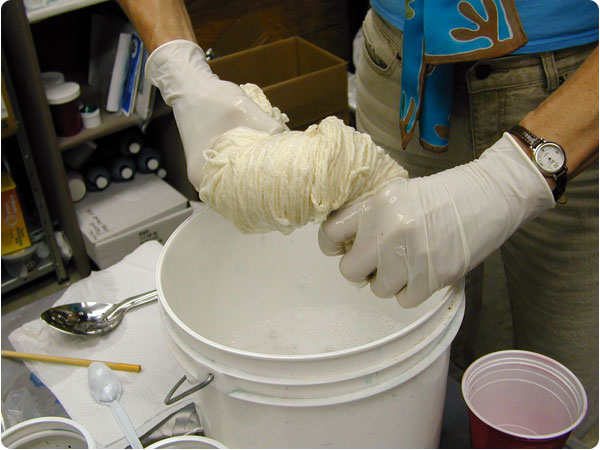 Mix about 1/2 cup Soda Ash Fixer with about a half gallon of water, making sure to dissolve the soda ash first. Add the skein of cotton yarn and soak for about 5 minutes while you are mixing up your dye colors.
Into 4 separate cups place 1 teaspoon of each color dye and mixing with just a small amount of water, make into a paste. Add about 1 cup of chemical water (3/4 cup Urea dissolved in 1 quart hot water) to the paste. Mix thoroughly. Add about 1 cup of the chemical water to each color.
Remove yarn from Soda Ash soak, wring gently and place on a plastic covered surface, laying out hank in a long row.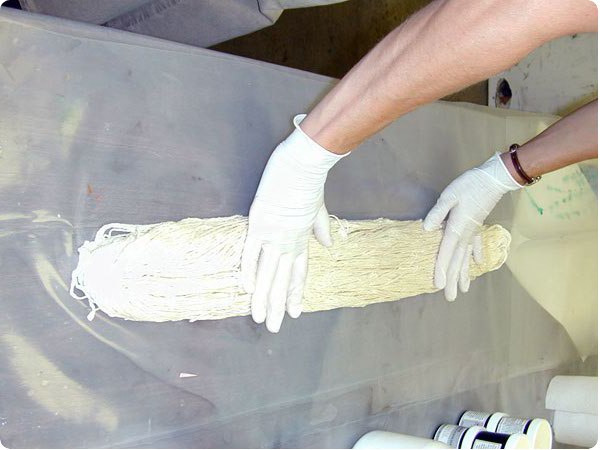 Starting with one color begin to paint on the dye at one end of the skein. Continue with each color until you have painted the entire side of the skein.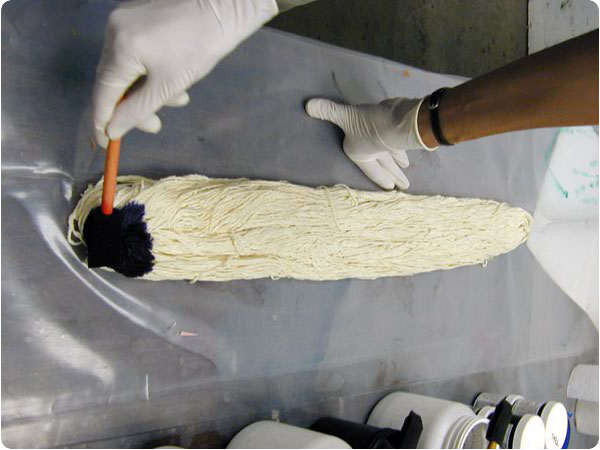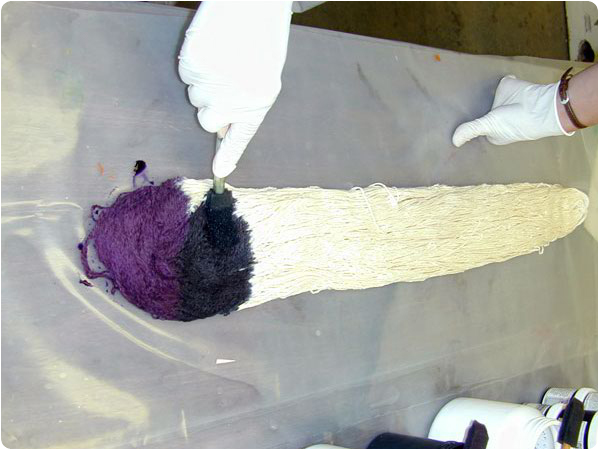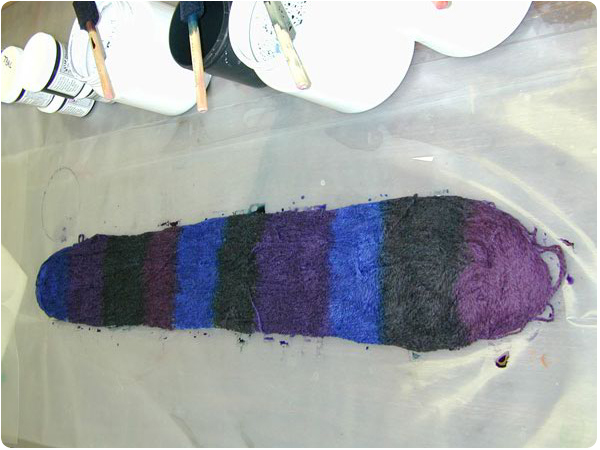 Carefully turn the skein over so you can paint the other side in the same order of colors you've used on the first side. Now check inside skein for any undyed areas and add dye if needed.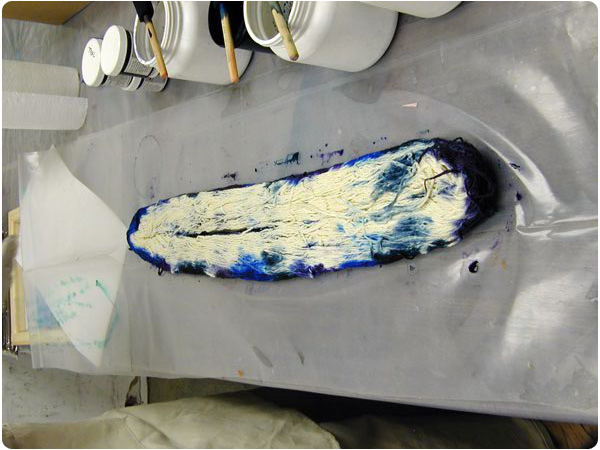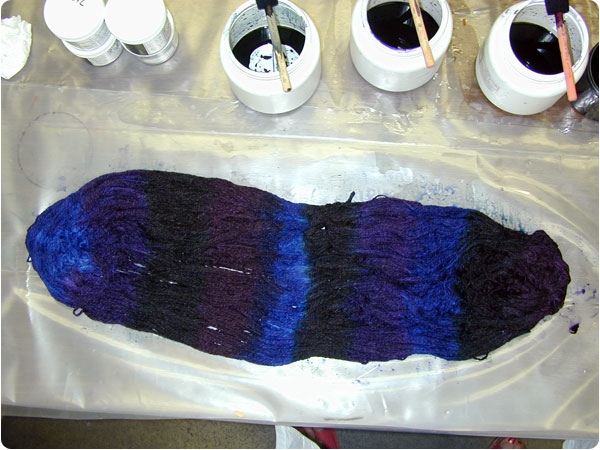 Cover the skein with a plastic sheet and let sit overnight or about 24 hours.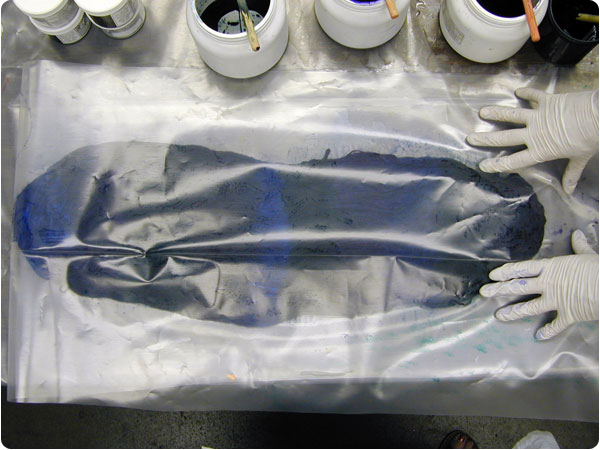 Uncover and rinse skein in 1/2 teaspoon Kieralon and water until water runs clear, being careful not to tangle the skein unnecessarily.
Wring out excess water and allow to air dry.