Using opaque and metallic fabric paints like Lumiere, Neopaque and Setacolor Opaque or Shimmer, you can print leaf, tree or plant forms onto black silk habotai scarves or other fabrics or clothing and make a beautiful standout piece. It is very simple to do and it makes a beautiful gift or keepsake.
Materials:
1. Black Silk Scarf (any size, Habotai H811B or Crepe de Chine CDC11B)
3. Leaves, branches, needles- flat ones. Best are the ones with the most ribs or veins or interesting shapes. Fresh is best or get too curled or brittle.
5. Plastic sheets - handy for slightly combing colors of paint together for a multicolor effect. Also for laying leaves on while you apply color.
How to instructions:
1. Iron black scarf to remove folds.
2. Make sure leaves are clean and flat and not too dried out because they will crack and crumble easily.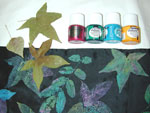 3. Using a plastic sheet, lay leaf vein side up, then apply with foam brush a mixture of paint onto leaf, not too thick so you will be able to see the vein when its printed. Dilute paint as needed. We recommend doing a few practice leaves before you print onto your main piece.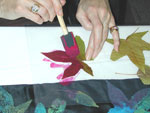 4. Place painted leaf vein side down onto fabric. Take a small piece of paper towel or other paper and gently place it over the leaf. Then softly rub your fingers over the surface of the leaf to transfer the paint onto the fabric. Hint - a soft rubber brayer works even better! Be careful you don't move the leaf while you are rubbing it. Remove the leaf by picking it up from one end and slowly lifting it up off the fabric. Repeat until you have a nice array of leaves printed on your scarf.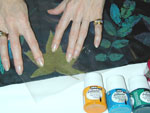 5. Allow to dry thoroughly and heat set with an iron on the appropriate setting for the fabric for 2-3 minutes to make the paint permanent.