Let's get started!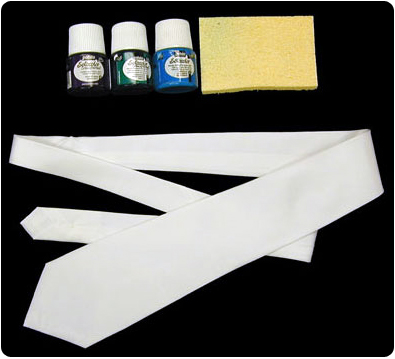 1. Cut out a piece of compressed sponge about 1 1/2" square and wet it. Wring it out so it is slightly damp. Note that a Plastic Drop Cloth (#PDC) will, as always, make clean-up easy.
2. Pour a small amount of Setacolor paint (we started with the emerald) into a plastic lid or plate and add a couple of drops of water. Mix to about the consistency of yogurt.
3. Cut pieces of masking tape into long strips and place in whatever pattern or design that pleases you across the white tie. Press firmly into place by sliding your fingers over the tape making sure all edges are stuck to tie.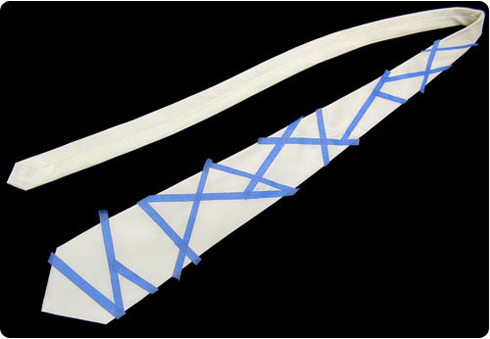 4. Using the sponge, soak up a little paint and, on a nearby paper towel, test the texture pattern. You don't want too much paint on the sponge or the sponge pattern won't show. Carefully and lightly, press sponge onto untaped sections of the tie. Continue to "pat" the tie with your sponge until it is covered to your liking. Once complete, carefully remove the tape and allow the tie to dry.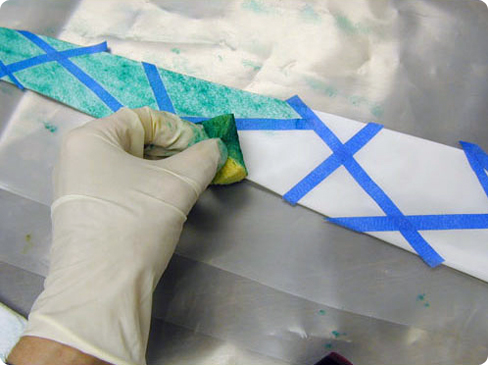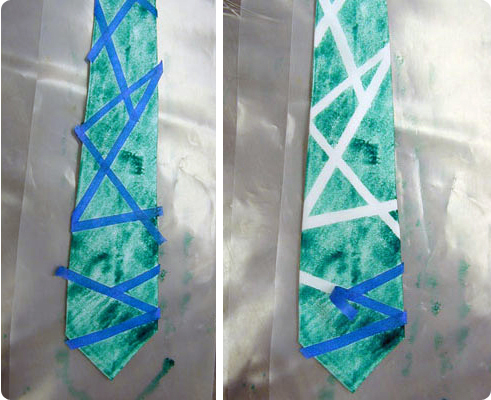 5. Repeat steps 3 and 4 with each successive color until you have overlapping areas of sponging. BE SURE TO ALLOW EACH LAYER TO DRY BEFORE STARTING THE NEXT COLOR! (we used 3 colors).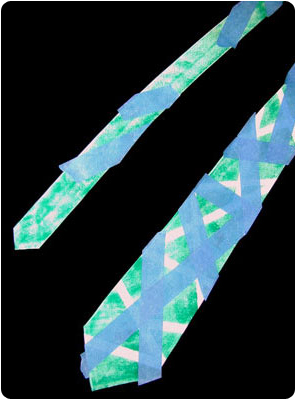 6. Using the Speedy Stamp Kit, carve a small stamp in a spiral pattern (ours ended up to be about a square inch in diameter). With a few drops of Lumiere Halo Violet Gold poured into a plastic lid or plate, take a small brush or foam brush and brush a light layer of paint onto the stamp. Firmly place the stamp onto different areas of the tie and allow to dry.
7. Pour the Lumiere paint into the gutta applicator bottle, attach the tip, and outline areas of your choosing. Let the scarf dry once again.
8. To set the colors permanently on the silk, iron the tie on silk setting for 3 minutes, moving iron back and forth across the tie. (Be sure to keep the iron moving to avoid scorching the silk)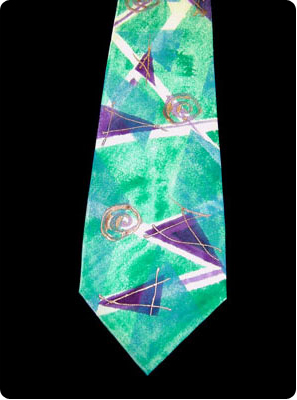 9. Give a beautiful tie to some very lucky man!!