Did You Know... About Dharma Dye? It's What We Do
You probably already know why Dharma Fiber Reactive dyes are more permanent than almost any other type of dye on plant fibers (see our article here). The qualities described in that little article are what make Fiber Reactive dyes superior to "grocery store dyes" in every way – color, permanency, vibrancy and economy. It is the dye of choice for all professional tie–dyers and batik artists, as well as other fiber artists working with cotton, linen, hemp, rayon and other plant fibers for those reasons.
Dyes are "what we do" here at Dharma! Our Fiber Reactive dyes are: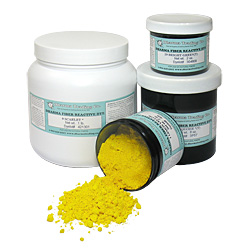 Fresh – we get thousands of lbs of dye every month, fresh "off the boat" so to speak. Dharma Dye has a maximum shelf life because when you get it it hasn't sat in various warehouses, storage rooms and shelves for months on end. Because we sell a LOT of dye, we go through 100 kilo drums in just days or weeks, instead of months. Fresh dye also has more vibrant color, i.e. it doesn't look "washed out" when you use it according to direction. New customers are constantly amazed at what better results they get from our tie-dye kits than from retail store kits!
More economical – especially in bulk. We keep our prices very competitive, and mostly better than anyone else's for most all colors. If you buy a 1 oz jar at an art store, you are basically paying top dollar for the jar and lid. Pay for the dye instead! Our Fiber Reactive dye is very concentrated as well. Other companies may sell the same "pure" color, or a similar mix, but tell you to use it at 3-6% of weight of goods (OWG), but with very few exceptions, like black, you can use ours at 2% OWG and get the same results! More bang for your buck!
Quality controlled – here is where we feel we really stand out from the pack!
We test dye samples from many different suppliers. When the patent expired for Fiber Reactive Procion type dye, the market exploded with wholesale sources. Based on our extensive commitment to quality & consistency, we insist on sampling dye before we even consider a new source. But mainly, what we've found out is that only a couple of sources consistently have the best, strongest, freshest dye. We stick to those sources.
Even from our good sources – we test every new dye lot. We rarely have to with our great sources, but we reject out of hand any dye that does not meet our high standards, like is too weak or doesn't dissolve or has a lot of junk in it. We even pay extra for the dye to be sifted so the powder dissolves well and is clean, so little bits of plastic or paper or whatever won't clog up your squirt bottles (if you tie–dye).
Our dye testing system is tightly, scientifically controlled! When testing any dye lot, everything is identical, weighed in tenths of grams on calibrated scales, temperature controlled, carefully timed, even the fabric is from the same lot, so that NOTHING is different except the dye lot. This is the only way to do it so we can identify any possible difference.
We number our own dye lots every single time we mix a color so that you know that if you buy more of the same dye lot, the dye color will be the same. If you have an issue, which our customers rarely do, we are proud to say, then we can refer to the dye–lot, figure out what is going on, and remedy the situation for you.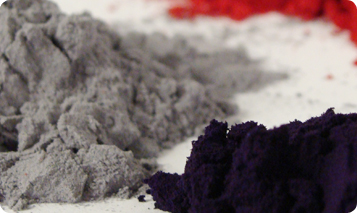 Backed by live customer service – We support our customers – and we have a toll free number – 800-542-5227. You can actually talk to a human, for free, and ask questions. Or you can email us at service@dharmatrading.com and a live human will get back to you promptly! If you find the wealth of information and instructions we already provide both on our website and in our catalog doesn't quite tell you what you need, we are here to help! Our staff can help you figure out what you need, trouble shoot, whatever!
All of our 130+ regular colors are in stock 99.999% of the time (unless there is a worldwide shortage of one of the pure colors, and if there is any to be had anywhere, we'll track it down for you). We ship same day, use any carrier you prefer and we pack securely.
In short, we do everything we can think of to be the best dye supplier we can, and have been doing it since 1969!