For Christmas last year, my husband and I decided on a 0$ budget for each other due to tight finances (always!!) In a stroke of brilliance (I told him to) he decided to sand down an old wooden toy trunk that I had intercepted from the epic to-donate-haul last year when my grandparents moved. It was in pretty bad shape, having been duct-taped together for at least a decade. I loathe sanding, so this gift of service was the BOMB.Ididnthavetodoit.com. After some soul searching and pinterest cruising, I finally settled on a design, and went to work. It only took me like a million years! Actually, the project wasn't that bad, but I just never had a huge chunk of time to work on it, so it got done in little snatches over several months. Also, I didn't discover til the tail-end of the project a handy little sponge roller that made it SO much faster–I mean literally, it took me 5 months to do the first half, and two hours to complete the second.
Shopping list:
An old trunk
Paints
A Sponge Roller
Let's get started!
What it looked like before we started.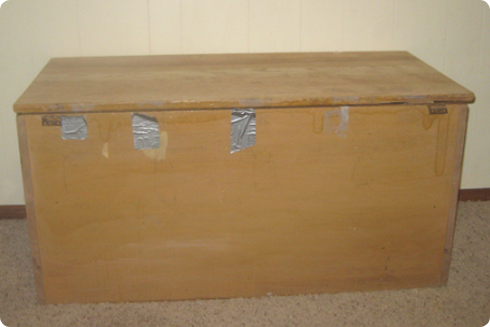 I hand painted the flowers, and then used a diy contact-paper stencil and my sponge roller for the triangles.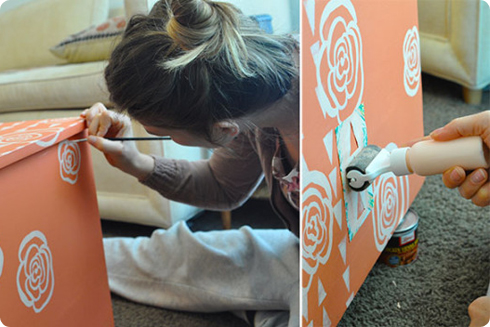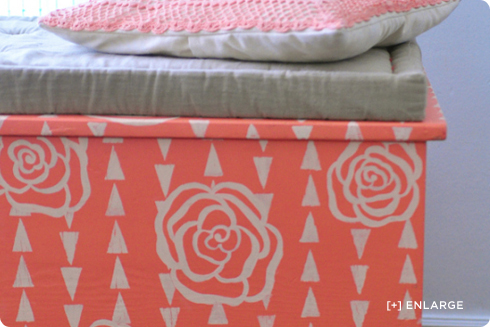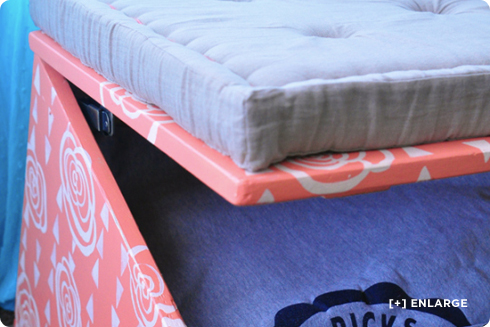 Because I know (horrible mother much?) people get really freaked out about safety, let me assure you that we installed a safety hinge first thing. We also did away with the duct tape and installed a hinge in the back.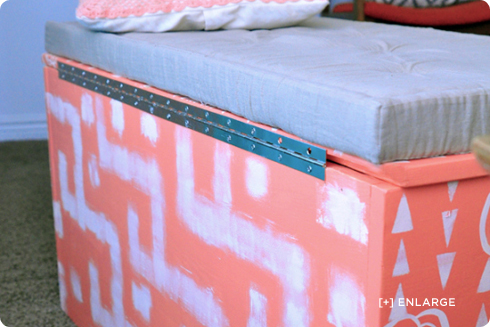 The back I did in about 30 seconds using my super handy little sponge roller I was telling you about. It makes things so much faster because the paint just flows or can be squeezed from the tube, and you don't have to constantly dip or wear out a sponge brush! I love how it looks so ikat looking!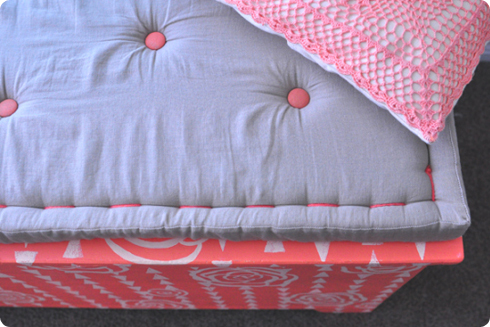 For the top I made a little tufted cushion so it serves as much needed seating in my living room. I really love how this project turned out, it's definitely a statement piece. The only thing I'm starting to worry about is whether or not this is going to be an enduring piece for me–I mean, will I like this coral in a year or two or twenty? Will I always want such a bold piece? We'll see. I guess if I change my mind Allan can always sand that sucker down again. Christmas comes every year, right?! ;)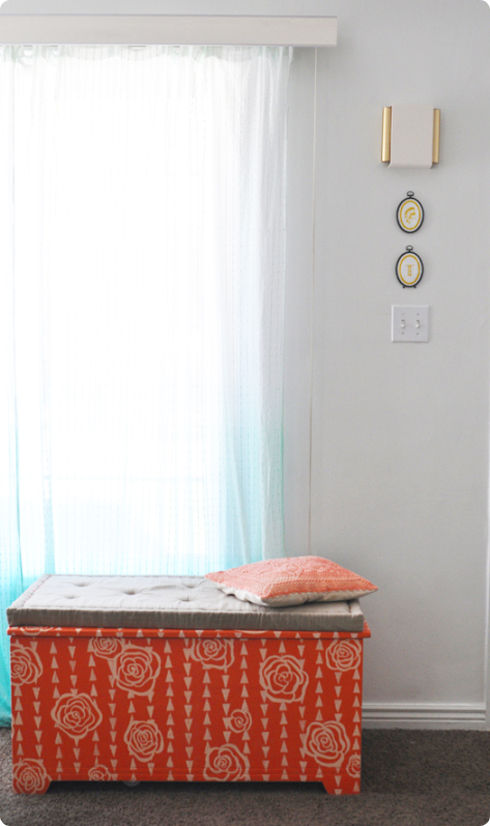 This tutorial was provided by Miriam Tribe.