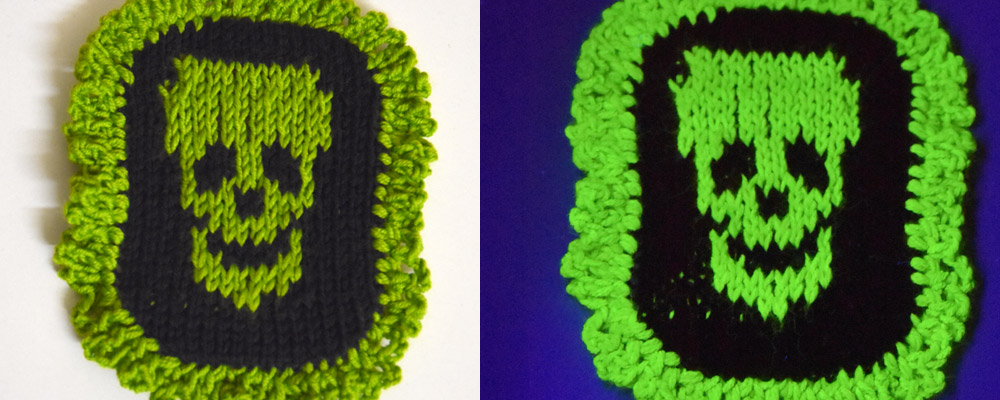 Fluorescent Skull Cameo Brooch
a Dharma featured tutorial
Sometimes you just want to knit, crochet or weave up something with a bit of POP to it, right?! One of our favorite ways to add pop is some fluorescent color, which you can get with our fluorescent shades of Dharma Acid Dye. These fun colors are bright in daylight and under a black light they light up the darkness! You will be the ghoul of the ball with this chunky cameo done in the style of Victorian Steampunk Memento Mori.
For more on Fluorescent vs Glow in the Dark, click here.
Supplies:
Acid Dyes - We used 479 - Radioactive 445 - Fluorescent Yellow, 406 - Fluorescent Fuchsia, 479 - Radioactive, 478 - Purple Pop, 456 - Fluorescent Safety Orange
Dyeable Yarn We used #YARN81 8-ply SW Merino DK Yarn, great for knitting and wool embriodery as it can be pulled apart like floss
A black yarn- or dye your own with 413 - True Black
See Tub Dyeing with Acid Dyes for other supplies
Skull Knitting Chart by Claudia Scarpa
Knitting needles and crochet hook
Cardstock/Light Cardboard
Pin/Brooch Backing
Sewing Thread
Let's get started!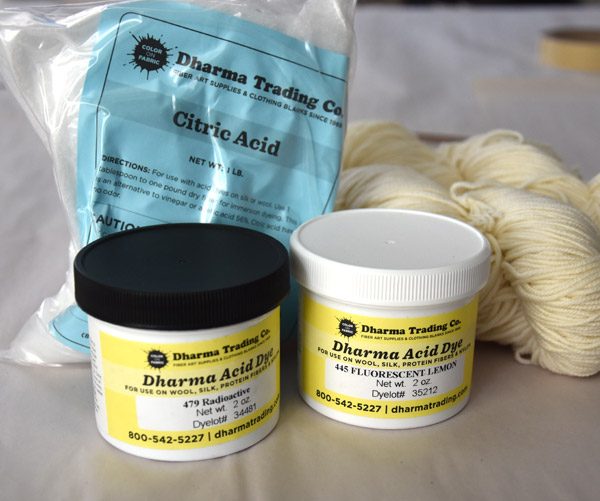 First, dye up your yarn according to the Tub Dyeing with Acid Dyes Method.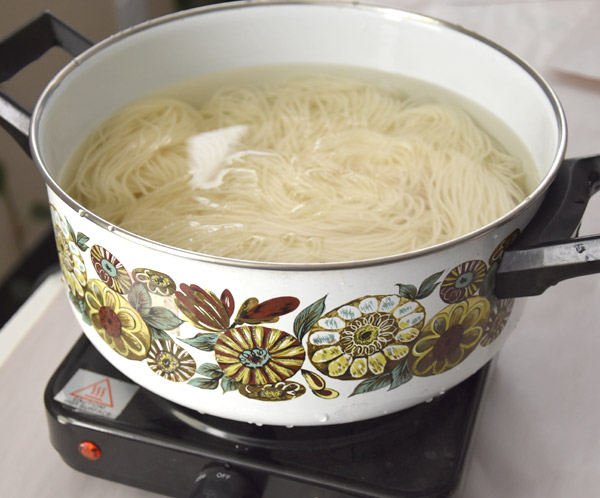 Pro Tips about dyeing with these colors:
These shades are very bright; a little goes a long way. Use at 1-1.5% weight of goods.
These colors don't always exhaust 100%. Using some salt in the water can help but is optional.
Make sure to simmer at 185º F for the full 30-45 minutes and then let the yarn cool down to room temperature in the pot. This will help with exhausting the yarn and give the most wash fastness with these special shades.
Mix colors with 445 - Fluorescent Yellow and other primaries to make your own fluorescent shades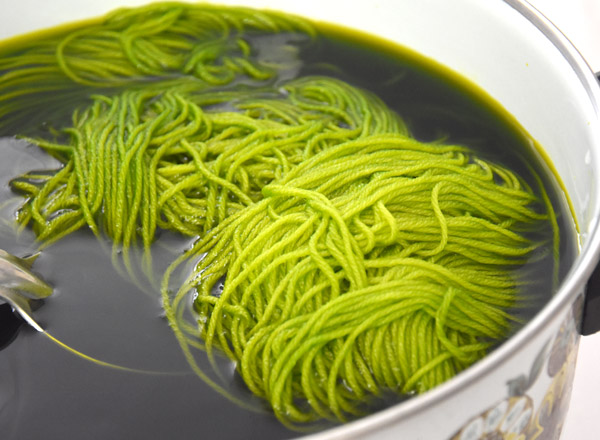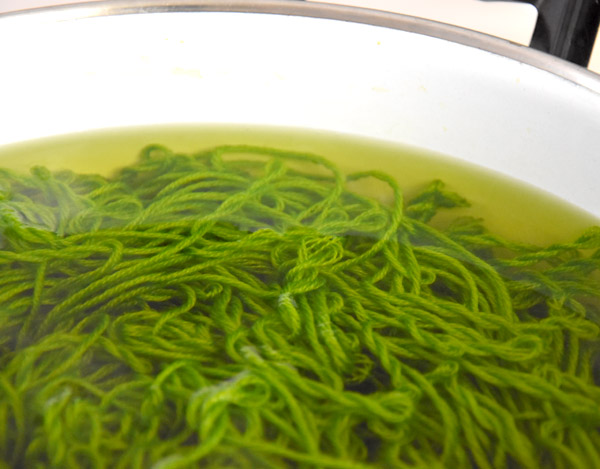 Using a pre-dyed black yarn and our Radioactive yarn we knit up this fun skull cameo with a great chart by by Claudia Scarpa.
For our cameo we Cast on 22 stitches on size 4 needles, knit 6 rows in black then start working skull chart. Make sure to center the motif. After working the chart do 6 rows in black and cast-off. The motif was stretched and sewn around some cardstock with a brooch pin glued on the back. The border was done by blanket stitching with the green yarn all around and then crocheting a simple chain border. Even if you don't knit or crochet, you can make all kinds of fun fluorescent projects with your rainbow of fluorescent hues, like pom-poms with extra pow!