Shopping list:
photographs or digital images
Half Ball Cover Buttons (3/4''-1 7/8'' or larger)
various trims and ribbons (1/8'' to 1/2" wide)
computer with image editing software
scanner
printer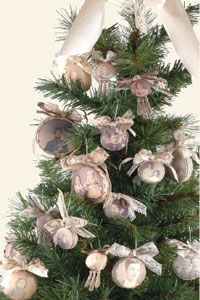 by Noelle Faulkner
Let's get started!
1. To get your photos into your computer you can scan them or photograph them with a digital camera. Scanning is best but you can usually get excellent results with a digital camera as well.
2. Using your editing software resize each image to fit the button it will go on. Adjust the color and brightness to your satisfaction. Depending on the software you're using you can also add many fun effects such as: fading the edges, giving the image a sepia tone, adding grain, and so on.

3. Paste the resized images into a new 8 ½ X 11'' document to make the most efficient use of the Inkjet Silk Sheets.
4. Print images on Inkjet Silk Sheet(s).
5. Peel the paper backing off the silk sheet. Cut images to size and cover the buttons according to the instructions on the package, preparing the buttons first by pulling out the metal shank from the back. (It takes two buttons glued back to back to make each ornament. The metal shank would get in the way.
6. Glue the buttons back to back with craft glue and let dry.
7. Paint lace trim with Lumiere and let dry.
8. Embellish your ornament with ribbons and the painted lace. I glued grosgrain ribbon around the edges (to cover the joining of the buttons) and glued the painted lace over that. Make a bow from ribbon and lace then glue, or stitch at the top. Add an ornament hanger and you're done!