Drawstring Backpack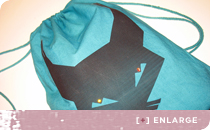 Here's an idea to decorate and personalize your very own lightweight Drawstring Backpack. (Fun for younger kids w/out books) We used our Super Soft Inkjet Transfer paper, Dharma Fiber reactive Dyes, and Swarovski® HotFix Crystals for some bling. This is how to show 'em how you roll!
What you'll need:
Drawstring Backpack
Fiber reactive Dyes or iDye
Inkjet Transfer paper
Patterns
Hot Fix Applicator (or home iron)
Swarovski® 4mm HotFix Crystal Packs
Scrunch Dyed Book Cover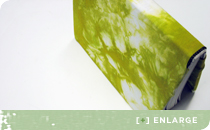 So here's a way to make your dreaded math book your best friend. Using one of our stretchy, one-size-fits-all, cotton Lycra book covers, make it something you love to look at, and then maybe you'll study more.
What you'll need:
Text Book Cover
Fiber reactive Dyes
Soda Ash Fixative
Click here for scrunch dye instructions, also known as the Crystal Wash technique.
Tee-Juiced Book Cover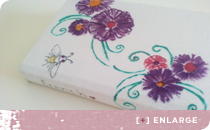 Here's a super easy way to decorate one of our cotton Lycra book covers (or any of our other back-to-school items) with our new non-toxic Tee Juice marker kits that come with themed stencils. The kids can color in the designs after you do the iron-on design transfers for them. 3 themes to choose from!
What you'll need:
Text Book Cover
Tee Juice Marker Kit
Iron
---
Pirate Backpack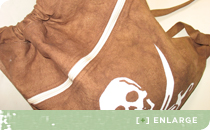 Screen print your very own cinch top back pack. (Heavy duty, holds books!) That way you'll be too cool for school. This can also be done by hand painting with any of our opaque fabric paints. We dyed ours first.
What you'll need:
Cinch Top Backpack
Speedball Screenprinting Kit
Screen Printing Ink (if you don't like the colors in the kit; also work for stenciling or hand painting)
Masking Tape
iDye or
Fiber Reactive Dyes
Painted Lunchbag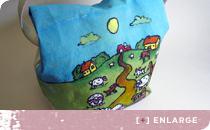 So maybe your mom only made you a bologna sandwich, but think of how yummy it will be if you're eating it out of a hand painted personalized lunch bag You might not be able to trade your sandwich, but your fancy lunch bag will be the envy of all the other kiddies!
What you'll need:
Lunch Bag
Lumiere And Neopaque
Identipen Fabric Pens
Fabric Painting Brushes
Vanishing Fabric Markers