Tie-Dye Kit Throw Down! Dharma Tie-Dye Kit VS. Boxed Store Kit
One-step Tie-dye Kits are all over the place, in several different brands, and they're often the way folks get started tie-dyeing. They have fancy packaging, they look so attractive there on the store shelf. But little do folks know the difference Dharma dyes make! Time and again they come to us looking for better, brighter results, like the ones tie-dyers sell at festivals. We're here to show you what a difference a dye makes, and why you want Dharma Trading dye on your shirts! Ready, Set, Dye!
Supplies We Used
Teeny Tiny Tie-Dye Kit in its plain utilitarian packaging (can't tell a book by its cover!)
T-shirts We used Gildan, with dyeable cotton thread
Bucket of water, for pre-soaking, and then for soda ash with our kit
Drop cloth or plastic tablecloth, to protect the work area
Scissors, to open packaging
A store bought fancy boxed "One Step" Tie-Dye Kit with, in theory, the "same" 3 basic colors.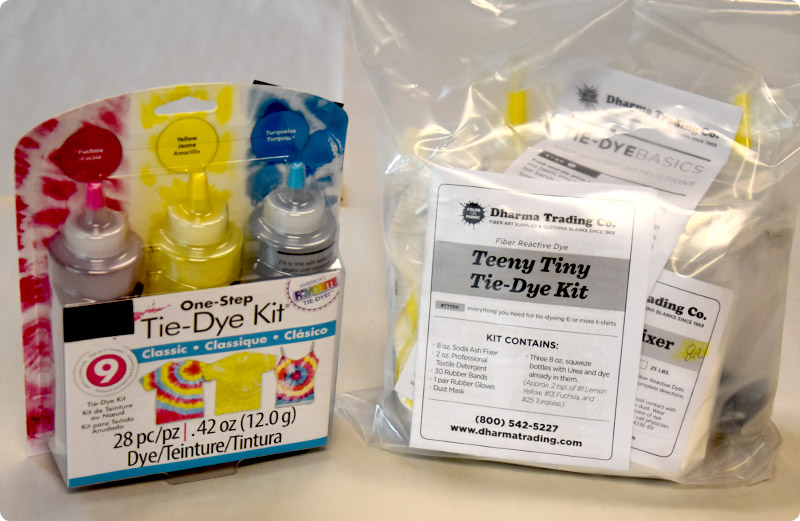 What Comes In Each Kit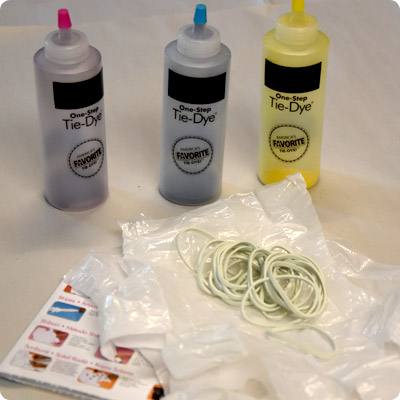 Boxed Store Kit
3 bottles with dye and soda ash inside- Fuchsia, Turquoise and Yellow
Plastic gloves (lunch lady style!)
Rubber bands
Instruction sheet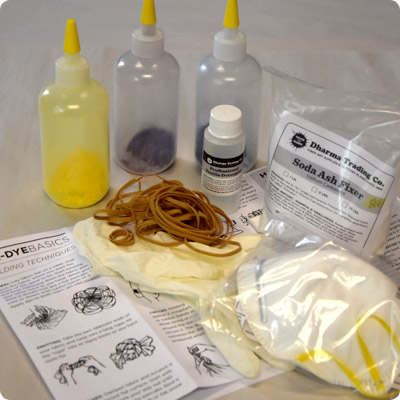 Dharma's Teeny Tiny Tie Dye Kit
Three 8 oz. squeeze bottles with urea and dye already in them. Approx. 2 tsp. Fiber Reactive Dye #1 Lemon Yellow, #13 Fuchsia, #25 Turquoise
8 oz. Soda Ash fixative
2 oz. Professional Textile Detergent
30 rubber bands
one pair rubber gloves (Dr.'s office style)
1 dust mask
Instruction sheets
Both kits require you to add water to the bottles and shake them up to dissolve. We used lukewarm, tap water.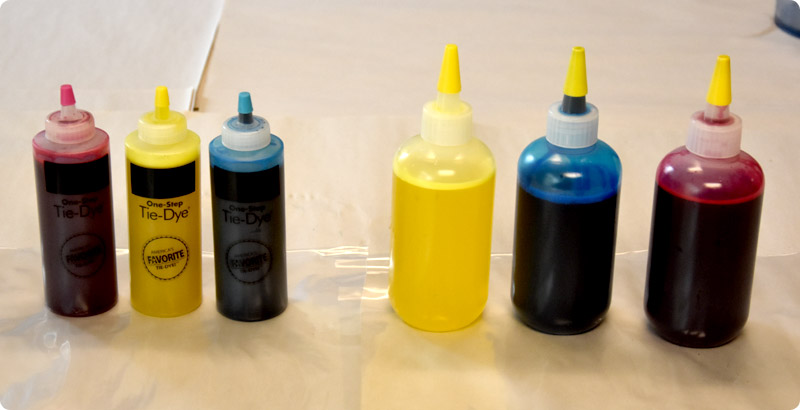 Pro-tip: Shake, shake, shake! Shake, shake, shake! Shake your dye bottles! Shake your dye bottles! (KC & Sunshine Band, 'Shake your booty' being the preferred music. Tie-dye should be fun right?!)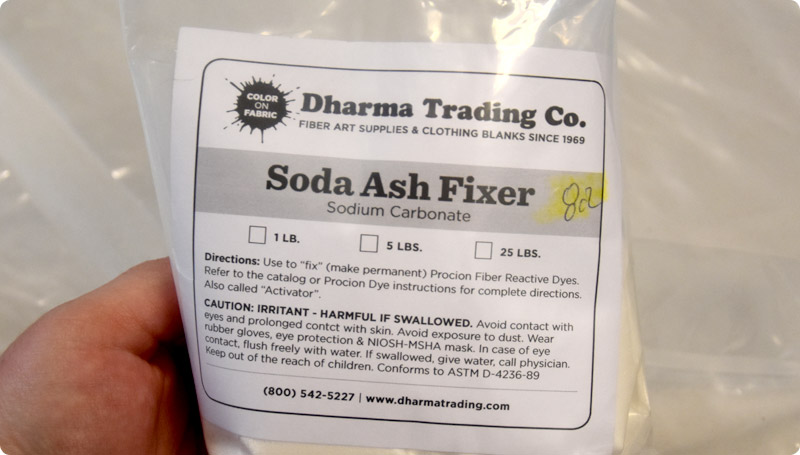 While we did this we used the 8 oz bag of soda ash to soak our tied Dharma test shirt. Just mix the whole bag into a bucket of water. Add the tied garment and soak for 5-10 min.
Note- We tied and soaked both shirts in plain tap water first. Only the Dharma shirt was put in the soda ash because the store kit has the soda ash mixed into the dye bottle. Whatever dye you use, starting with a wetted garment will help the dye penetrate the fabric.
We did the classic spiral fold on both shirts. Each kit has instructions for this fold.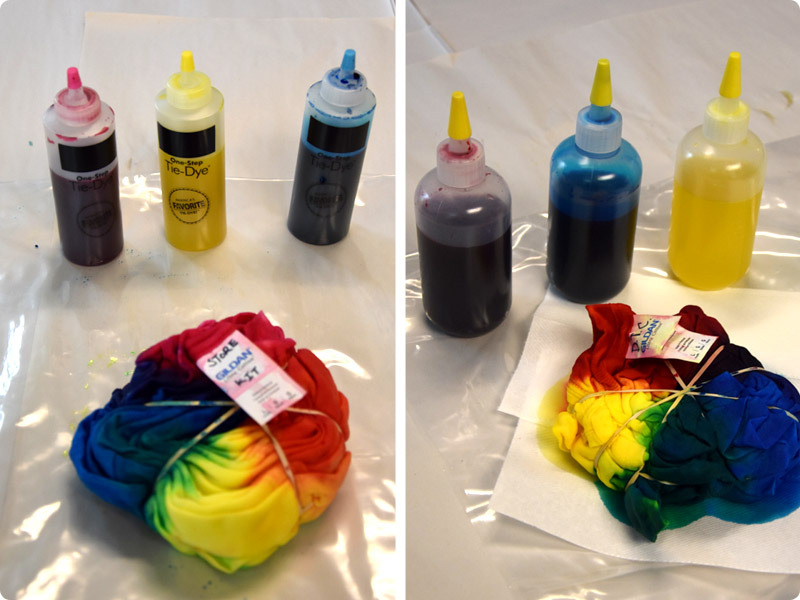 After soaking and then gently squeezing out the excess soda ash water on our shirt (so as not to disturb the ties) we applied the dye to the both shirts in the same order and manner, wrapped them up in plastic bags per the instructions and left them to batch overnight.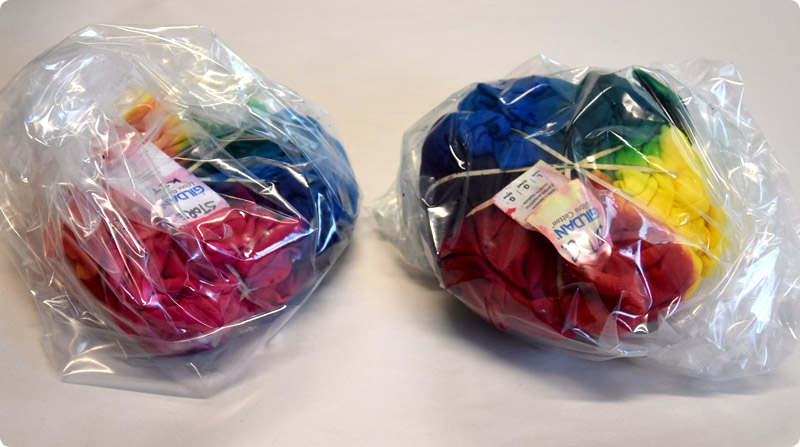 We rinsed both shirts in cold running water while we untied them, then washed them in the Dharma Professional Textile Detergent that comes in our kit. It is important to wash them out really well before they are worn, but store bought kits don't include special dye removing detergent.
While both shirts were certainly fun to do, you can clearly SEE the difference. The choice is clear, we think, pay for a nice package, or pay for quality ingredients and a kit that covers all the bases. We believe that fresher dye makes for the brightest rainbows in town! This is why customers consistently choose Dharma Trading Co. when they want quality results.