NEW! Explore Batik on Fabric + Paper by Rosi Robinson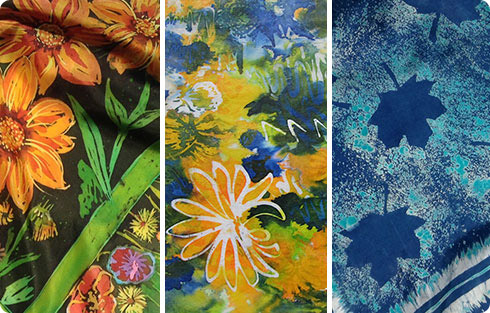 What could be more fun than to spend an afternoon working with Batik on Fabric? How about working with Batik on Paper as well!
Enjoy this self-paced workshop in learning a variety of ways of using Batik wax as a resist. Rosi Robinson has been teaching Batik for years and is the Author of several leading craft books on Batik from Search Press and has a 2 disc DVD set simply called, "Batik Workshop". She lends her expertise in this wonderful workshop which is playful, whimsical, and skillful at the same time.
In Part One, everything from fine art papers to tissue paper is explored, as well as the idea of working additive (dyes, inks and watercolors) to subtractive (using discharge as a decolorant). In Part Two where we move on to silk and cotton, complex imagery is explored on several fabrics using techniques learned in Part One while adding some new techniques as well.
Enter DHARMA10 when you checkout to get 10% off the price of the workshop.
Studio Galli Workshops
Enter code DHARMA10 when you checkout to get 10% off the price of any workshop.