Silk Painting for Wearable Art by Natasha Foucault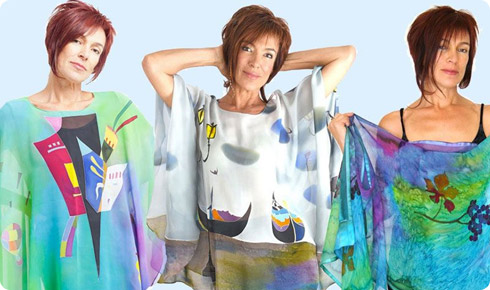 Have you ever wanted to wear your silk designs out on the town? Now is your opportunity! Think "Fashion Runway meets Etsy!" in this rare opportunity to spend time in the workshop of one of the best Fine Art silk painting artists on the West Coast.
Natasha works on 'blanks' in this workshop on larger scale frames for scarves and a very large floor frame that can accommodate shawls and kimono-sized panels of fabric. Developing wearable art is her forte and we explore a variety of techniques and considerations for working in large scale work, working fast, and developing successful larger lengths of fabric.
The workshop includes a discussion on how to build a larger frame at home as well as opportunities for trunk shows, setting up an Etsy shop, and much more. Three workshops in one! Work from a table frame all the way up to a large-scale floor frame on a variety of fabric styles and sizes!
Enter DHARMA10 when you checkout to get 10% off the price of the workshop.
Studio Galli Workshops
Enter code DHARMA10 when you checkout to get 10% off the price of any workshop.