Shopping list:
Spray-on Adhesive
Doilies
Jeans
Let's get started!
Chloe's Fall 2010 gold embroidered, part mariachi-part cowboy denim pants were our inspiration for this week's DIY. Such elaborate embroidering is beyond our skill set, so we figured stenciling a beautiful pattern using gold fabric paint would be a more feasible interpretation. Who knew paper doilies made the perfect stencil?
You'll need doilies of different sizes and patterns, a paint sponge or paintbrush, Krylon Easy Tack Spray Adhesive, Lumiere Fabric Paint in Bright Gold, and a pair of jeans.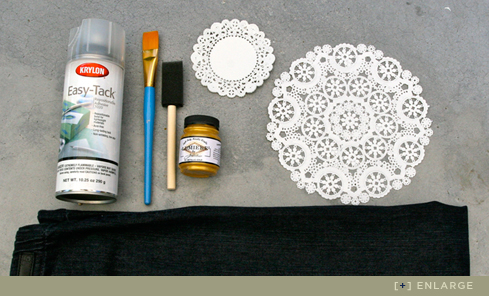 Lightly spray the doilies with the adhesive and press down firmly on the jeans. We overlapped the doilies and stopped at three but there really isn't a right or wrong way to creating your own pattern. Gently dab paint into the negative spaces of the doily, making sure not to overload the paintbrush.

Apply at least another coat of paint, let dry and peel back the doilies to reveal the pattern.