DecoArt Dazzling Metallics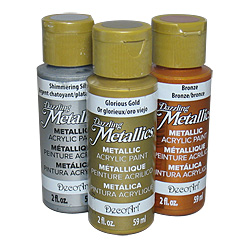 USE FOR: Fabric and silk painting, stamping, stenciling
USE ON: Most fabrics - canvas, lampshades, linens, silks, some synthetics, etc. Good coverage on dark fabrics. Non-toxic.
Product Details
List Price
1-4
5-9
10+
2 oz. -
$2.36

$2.23

$2.09

$1.88

$1.91

$1.72
Average Customer Review

Click here
to add or update a review for this product.
MOST HELPFUL REVIEWS

4/1/2016
They are a great inexpensive liquid acrylic with an amazing color selection! I have used them with great success for gelli mono printing on paper and for painting wood and paper mache objects. However I did NOT like them on (8mm) silk! They dried very stiff and crunchy even with a very thin coat. They are nothing like the SoSoft metallic fabric paint they used to make in many wonderful colors. I'm so bummed because this is what I wanted them for - silk fabric paint! They may fair better on other thicker or stiffer fabrics though.
Was this review helpful?


7
of
9
users found this review helpful.

3/7/2017
Best metallics for the price. Nothing beats Lumiere for true metallicpearlescence BUT these are quite soft and they mixplay well with all the other paints sold by Dharma. I like mixing them with the Metallic Jacquard Airbrush Inks when I need something OPAQUE that flows but still has some body...if that makes sense haha!
Was this review helpful?


5
of
7
users found this review helpful.