Unicorn Spit Gel Stain & Glaze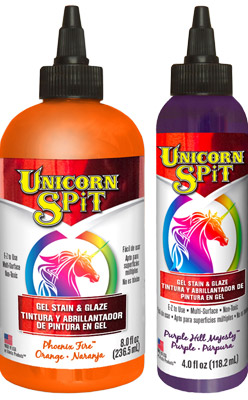 USE FOR: Painting, staining, faux marbling, stamping, stenciling, watercolor techniques
USE ON: Wood, glass, metal, fabric, pottery, wicker, concrete and laminate. Non-toxic.
Product Details
1-9
10+
4 oz.
$

6.99

$6.59
8 oz.
$

11.79

$10.85
Average Customer Review

Click here
to add or update a review for this product.
MOST HELPFUL REVIEWS

1/11/2018
This is a wonderful product and so easy to use even for children. It is water based and so easy to clean up. I used it on glasses to create candle holders. You can achieve so many different designs by using your fingers paper towel plastic wrapping etc. The colors blend beautifully. Because this product iw water based the only finishes I have used are oil based either Rustoleum triple glaze spay or in the winter Minwax brush on polyurethane. This won't make it dishwasher safe but you can wipe things down with a damp cloth. When the candle holders were done and candles put in them they created a beautiful effect. Very child friendly. The fragrance is lovely too. Just can't beat this product!
Was this review helpful?
1
of
1
users found this review helpful.