It's Time For A Tie Dye Party
How It's Done:
1. Presoak shirts
2. Tie and Rubber-band shirts
3. Apply Dye
4. Wait until next day - then wash and dry
The Result:
A laughing happy group wearing vibrant colorful shirts
Color & dye chemistry explored with our lesson plans
Henna Party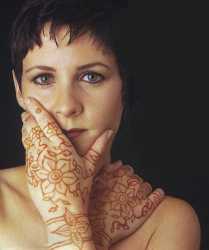 The Result:
A flashy group showing off their tattoos left and right.
How It's Done:
1. Mix ingredients (instructions included) and apply within 24 hours.
2. Thoroughly wash and dry area where Henna is to be applied
3. Apply Henna mixture with included applicator.
4. Allow Henna to remain on skin as long as possible (12 hours is ideal).
5. Wash off the Henna mixture leaving behind your design.
6. Designs generally last 12-15 days.
[detailed instructions]
What's Needed:
Mehndi Henna Kit (hundreds of applications) - $9.95
Paper towels to wipe up any messes
Silk Painting Party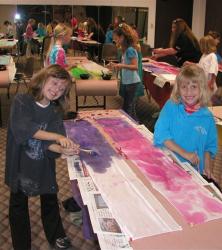 The Result:
A group full of joy and personalized silk hoops.
How It's Done:
1. Open the paints. Dilute and mix them to taste
2. Use the resist to keep areas of color separate from others...
3. ...paint, paint, paint...
4. ...add silk salt to wet painted areas for interesting effects
[detailed instructions]
What's Needed:
Silk Hoop Painting Kit (1-3 people) - $17.95
Water to dip your brushes in and to dilute your paint
One additional brush (3 people only)