Kung Hei Fat Choi! Chinese New Year, also called Lunar New Year, or Spring Festival is the most important of the traditional Chinese holidays. The holiday is celebrated by cleaning house top to bottom, setting off fireworks, enjoying lots of food, giving gifts of money, sweets and forgiving the debts and arguments with family and friend. Many large cities in the USA have big parades and street celebrations featuring large Chinese Dragons and Lions as stars of the parade.
In Chinese culture dragons traditionally symbolize potent and auspicious powers. Dragons are attributed with having control over water, rainfall, and floods. The dragon is also a symbol of power, strength, and good luck.
This is a fun simple project, great for kids and adults as a way to learn the Serti technique of silk painting. Kids will enjoy playing dragon and the design also make a great vibrant scarf to wear on the new year. Lets get started!
To Make your Dragon Scarf:
Make sure to pre-wash and iron your scarf.
Step 1:
Place the outline under the silk on a flat table, it may help to tape things down while you trace. Trace the outline with the washable marker onto the scarf. Once you have traced the basic face get creative, we added extra plumes on top of his head. Draw the dragons body, Chinese Dragons are very serpent like. The scales are easy to free hand later but you can draw them in if you want. Draw in his feet and claws, dragons traditionally have 4 or 5 claws per foot.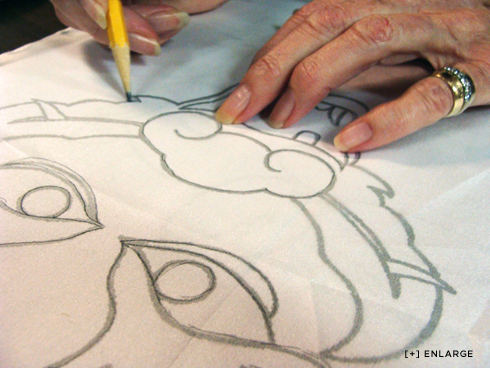 Step 2:
Pin your scarf to your frame. Make sure it is evenly stretched and does not touch the table surface. You may want to put some newsprint or plastic underneath just in case. You can adjust the tension later if you need to.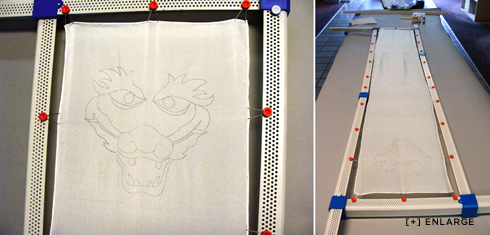 Step 3:
Apply your gutta/resist to draw the outlines. Use firm even pressure on the gutta applicator bottle and keep good contact with the silk. Make your line as even as possible, thin spots will let dye escape later.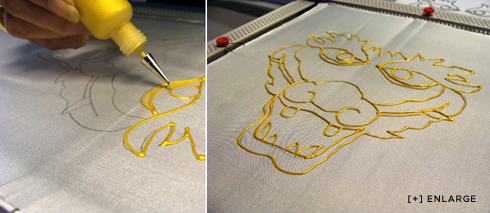 Follow your pre-drawn design but don't be afraid to freehand in extra details - we free handed the body and scales. Double check the back to make sure it went all the way through the fabric, close any gaps in the lines. Let the resist dry.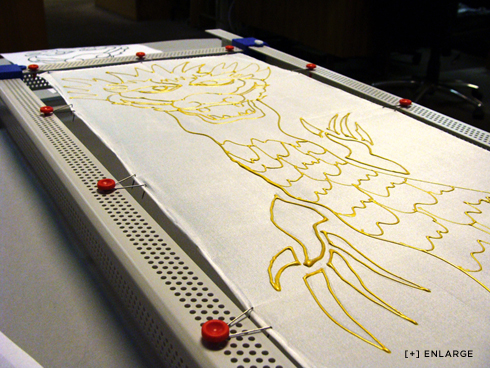 Step 4:
Apply your dye. Color hue is an instant set dye that you do not have to iron. You can dilute it if you want, we used it undiluted for the strongest color possible. Use the sumi brushes to apply the color to the silk, the resist will keep the color in the shape but you don't have to stick to just one color in an area. For the back ground we used a dilute Dye-na-flow paint to get a more even color but it does have to be ironed.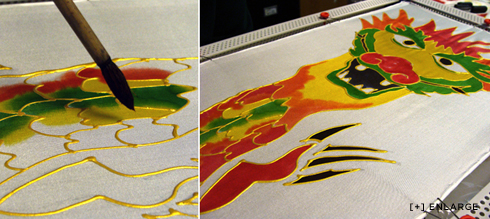 Step 5:
Let the scarf dry on the frame. When it is dry iron to set the waterbased resist and the Dye-na-flow. Hand Wash in cold water.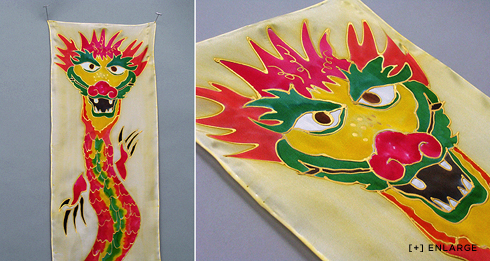 Play with, wear or hang your Goodluck Dragon. Throw your own Chinese New Year Parade! Gung hei faat coi!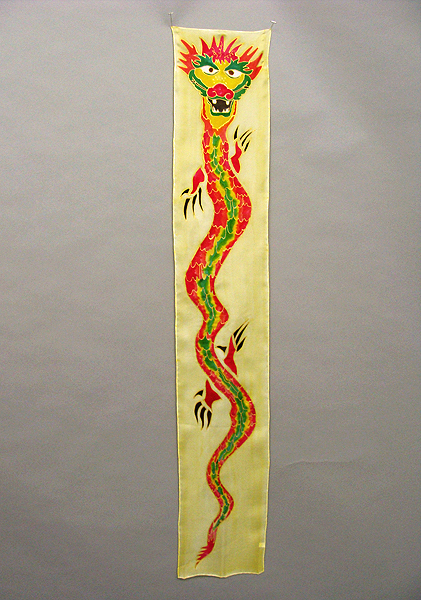 Written and Photographed by Elizabeth Holdmann with Judi Stack for Dharma Trading Co.
Shopping List: