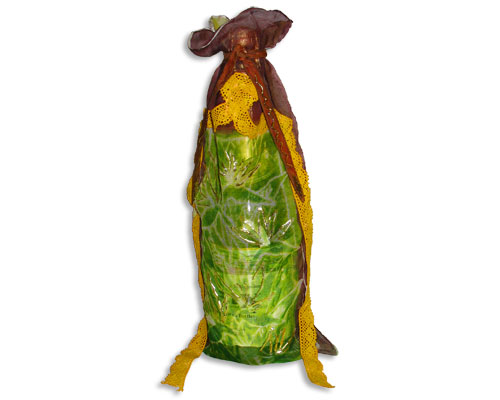 Materials:
Procedure:
Pre-wash gift bag.
Place cardboard or freezer paper inside the bag to keep the front separate from the back of the bag.
Copy design on copy machine to get design flat, place inside bag and trace with the vanishing fabric marker.
Put tube of resist inside Gutta Applicator bottle and trace design with the Resist.
Let Resist dry to the touch and paint with a sumi brush Dye-na-flow Burnt Umber around the border of the design.
Mix the Cerulean Blue and Gold Yellow to make a green color and paint over the design inside the border of Burnt Umber with the foam brush.
Paint the bag tie and the lace with a foam brush.
Let dry, paint the backside of the bag, let dry.
Iron to fix paint on both sides using newsprint in between the front and back - 3 minutes per area.
Wash out excess paint.
Use Foil glue where you want the gold foil, let dry, press foil onto the glue.
Sew Lace around bag put your gift in the bag and tie with the bag tie.