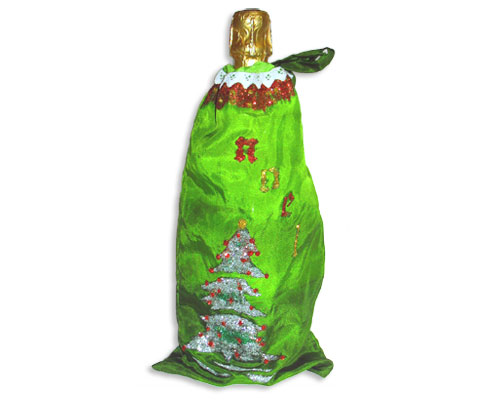 Materials:
Procedure:
The gift bag was ombre' dyed with Kelly Green Acid dye mixed with a tiny bit of Chestnut to darken it up a bit. The color gradation (ombre') was achieved by immersing the entire bag in the dye for less than a minute and then pulling it up out of the dye bath a few inches at a time--if your dye pot is tall enough you can just stick the wet silk to the side of the pot.
The dyed gift bag was turned inside out and a small bead of Jones Tones Fabric Glue was applied to the top opening edge of the bag and then folded down to create a drawstring pocket. After the glue dried, the bag was turned right side out and small hole was cut into the side of the bag for the drawstring to be threaded through.
A Christmas stencil pattern was traced onto stencil film and then cut out using the electric Stencil Cutting Tool. The Jones Tones Fabric Glue was then stenciled and randomly brushed onto the gift bag. While the glue was still wet, Jones Tones Glitter was sprinkled onto the glued areas and allowed to dry.
After the glue was set and the glitter brushed off, the dyeable cotton lace was glued down over the adhesive line that was created where the drawstring pocket was made.
The DecoFabric markers were used to touch up the areas where the glitter didn't adhere properly to the stencil.