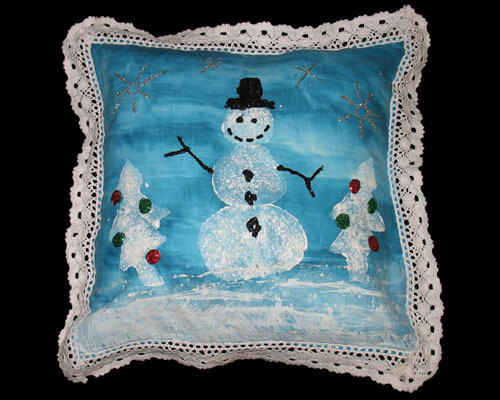 Materials:
Procedure:
The pillow case background color was painted with Dye Na Flow using a Sumi brush. Be sure to put a plastic bag inside the pillow case so the paints and glue will not stick.
Shapes were cut from sponges for the trees and snowmen.
The trees, snow men, and snow were sponged onto the dry background with Versatex printing ink. The ink was brushed onto the sponge surface before application.
Once the Versatex Ink has dried the details of the snowman, trees, and snowflakes were first drawn with Jones Tones Foil glue. While glue was still wet Jones Tones Glitter was applied. Be sure to keep the pillow case on a flat surface.
After the glitter has set brush off the excess glitter and remove plastic back from inside.
Sew the lace around the pillow edge to desired effect.
Stuff pillow and sew closed.