For many of these projects, our Group Tie-Dye Instructions can make the process easier!
---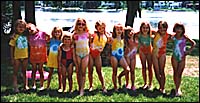 1. Girl & Boy Scout, Brownie & Cub activities: Tie-dye works great as a troop activity and has been done 100's of times across the country. Kids love it and it's easy on the leaders and not expensive. Group Kits make it real simple.
---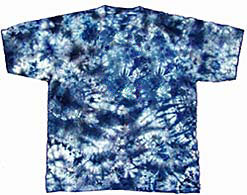 2. The Crystal Wash Method: This is a form of "low immersion" dyeing that results in a sharp distinct crystalline looking pattern. Click here for more info!
---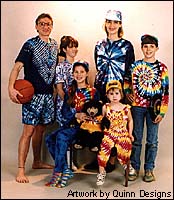 3. Family Reunions: We get letters and fantastic photos from all parts of the country - everyone from Grandpa to the newest arrivals decked out in tie-dye that they all shared an afternoon creating. It's a super way to bring everyone together in a shared activity.
---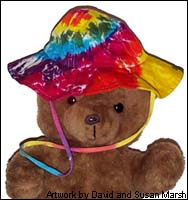 4. Personal & Gift Projects: Create some unique and one-of-a-kind garments for yourself, friends and family. Gift that you make yourself are always highly valued. Create items for your wordrobe in your favorite colors.
---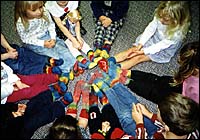 5. Birthday Parties: With a little preparation by an adult, even the youngest kids can have a great time making their own individual tie-dyes - and it can be done without making a big mess!
---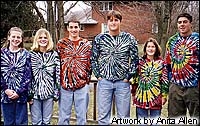 6. Camp Activity: Tie-dye has been a favorite summer camp activity for more years that most of us remember. If you know the number of people, we know the numbers of everything else!
---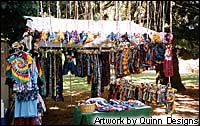 7. Fund Raisers: Set up a booth at an event. Prep all the materials. Have T-shirts on hand. People come to the booth and buy a T, fold it, dye it, put it in saran wrap and take it home. Somewhere in the process they give you money!
---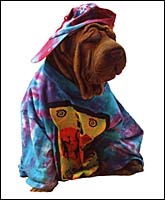 8. Team Uniforms: Tie-dye them, then have them screen printed with text or use our InkJet Transfer Paper to do it all yourself.