Featured Artist : Jean-Louis Mireault
|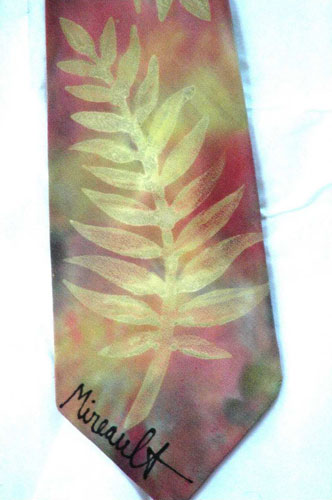 Artist Bio / Statement
For two year now, I have been a Dharma Trading Co. customer. I discovered this wonderful textile store on the internet. Now, my art has changed. I am a watercolorist on silk, doing so since 1978. All my artwork is framed and presented as a visual art product. I am now recognized by international associations like the SPIN (Silk painters international News from USA), the Guild of Silk Painters of the United Kingdom, and d'Art et de Soie from France.

My artwork is also reproduced on cards, serigraphs, lithographs, and t-shirts. As a new outlet, I purchased silk scarves from Dharma. They have such good quality silk scarves, that when I participate in Le Salon des Metiers d'Art, in Montreal, Quebec, Canada, people ask me where those magnificent scarves come from. Charmeuse, Crepe de Chine, fringe scarves... It is a real pleasure for me to tint those silk scarves.

I use the pre-hemmed scarves. I particularly appreciate the Charmeuse 35 x 35. Recently, I started working on the scarves with fringe. Fantastic! They are easy to tint and are well liked by my customers. They have something special and original that is pleasing to women.

I also work upon Crepe de Chine and Habotai (10mm and 12mm) pre-hemmed scarves. I put them in yogurt pots and submerge them with alcohol, water and tints. It gives terrific effects. Salt, wax, airbrush... everything to achieve something unique on special surfaces.

As tints, I do prefer the Dupont. They are stable, very concentrated, and luminous. I also work with Dupont's black gutta. They are just great products. To paint my artwork, those are the Dharma Trading products that I use. I often give a special touch using Pentel Fabricfun pastel dye stick in "frottis." It gives very special effects on my silk artwoks. Habotai 12mm is the one that I privilege for my framed pieces.

I recently tried the Jacquard's discharge paste on my scarves. What a great job it does. A lot of surprising effects and a lot of exploration to do. It is terrific. When you steam your scarves, all the effects appear for real. It is a new process for me, and it is like riding on a wild horse. You have to be aware to bring it to the right place.

Painting on silk is a divine experience. From the white surface, you create a colorful world filled with emotions.
Contact Info

It would be a real pleasure for me to answer your questions, and if you want to buy one of my works, just e-mail me or visit my website at www.mireault-art.com.

My mail address is:
Jean-Louis Mireault
406 Petit-Coteau
Vercheres, Quebec
Canada, J0L 2R0