Jacquard SolarFast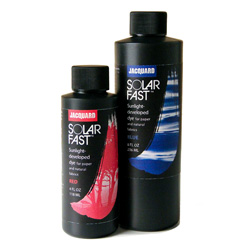 USE FOR: Photograms, Painting, Tie dyeing, Screen printing, Sun Printing, Stamping and Batik
USE ON: Natural fabrics and paper.
Product Details
1-4
5-9
10+
4 oz.
$

6.89

$6.65
$6.25
8 oz.
$

10.25

$9.95
$9.45
Gallons - Call for availability
$

107.00

$93.75
Average Customer Review

Click here
to add or update a review for this product.
MOST HELPFUL REVIEWS

5/16/2014
I have experimented a lot with these dyes using photographic litho negatives. They seem to have a more consistent quality and predictability than the Lumi dyes as well as a more interesting selection of colors. That being said there is a severe weakness in the colors in the green range (avocado green green and teal). I have not been able to get true color results from any of these. I'm especially frustrated with the avocado which I think could be awesome if it worked right. Also my experience is the best way to get a clear print especially if you have a lot of detail is to paint the fabric in a darkened room and let it dry thoroughly before exposing. If the fabric is damp it will create condensation under the glass and will blur the image andor dilute the colors. It will still wash out fine if you use the Solarfast wash. However the green range also are nearly impossible to wash out and I end up with yellow shirts. This doesn't happen with the other colors. Overall this is a really fabulous product with so much potential. Just needs a lot of patience and maybe a bit of tweaking from the manufacturer.
Was this review helpful?


28
of
28
users found this review helpful.

9/4/2013
Wow! These dyes are fast and very sensitive. I was quite impressed with how much detail they are able to pick up. I initially used them with a piece of acetate and a sharpie pen and my drawing appeared on the fabric like magic. I found that it's important to prep this in as dark a room as possible as the sensitivity of the dye can start it to develop before you expose it to full sun.I used Teal and Blue and found that the Solar Fast Wash is really important to get out any left over undeveloped dye. (The Teal is really yellow when it is first applied and regular Synthrapol didn't get the yellow out of the white parts but the Solar Fast wash did).Also make sure you're in a well ventilated room as some of these dyes have a pretty strong ammonia aroma.It's well worth the fun and adventure with these dyes!
Was this review helpful?


18
of
18
users found this review helpful.

10/7/2013
I have really been getting some nice results with SolarFast. It is the best way I have found to reproduce shaded images like pencil or charcoal drawings without using a half tone. More detail than screen printing! It is a bit tricky at first a little like exposing a photo emulsion screen. I have found that you need to have a really dark transparency. Doubling the transparency can be a good idea if you aren't getting good highlights in your image. Over exposing has been better than underexposing for me. It was developed in California so I think the sun is a little stronger there. I add 5 minutes to the exposure time in bright sunlight in NYC and I more than double exposure time when it is cloudy. I sometimes lift the transparency and look at the darkest part of my image to make sure it has exposed fully.Washing is really important. Some colors wash out better than others. I have found that red scarlet orange burnt orange violet and brown wash out by hand. Anything else needs a washing machine and the SolarFast detergent. Yellow which is in all the greens sepia and black seems to be the hardest to wash out. If you didn't get it right the first time try again. The results are totally worth it!
Was this review helpful?


10
of
11
users found this review helpful.

9/10/2013
This dye is fun and fast. My experience so far: I tried it at home during the late day sun not so good. We are entering fall here and the sun was at an angle. I got some results that worked so I was ready to do it at a picnicbarbeque event which was a mid-day event.. We used the logo from the club and hand embellished them with sharpies - so much fun! We were under the shade of some dense redwood trees out of direct sun. I poured the paints out and used little foam rollers. I had added about 10percent water to the dye. Some people mixed the colors others used one color. We had plexiglass for all of the designs which helped keep the pieces of fabric from blowing around. We had a large area of concrete that we set the fabric on and it left a better image on the cloth when we left the newspaper that we used to keep the table clean under it rather than rested it directly on the concrete. Some people left their pieces on the concrete for a long time but regardless of the time it was really important to keep them completely out of the sun until they were ready for washing. We didn't have hot water or the Solarfast Wash so they were sent home with instructions to wash in hot water as soon as they got home. A few pieces were lost because they were put where the sun could get to them when they were taken up from the concrete.My next experience was even better (practice totally makes perfect!) I had my husbands business logo and we used black on one and red on the other shirt. The logo is an old drawing with a lot of sketch design so it had light and dark areas. We did the same photoshop process to make the image of the original. This time we did it inside (definitely a potent odor like ammonia is what the dye smells like - so open some windows!) and darkened the table area with sheets over the windows. The black did not completely get dark and I was told that it should stay outside for an hour to develop. (Next time!) We did the red as well in that design but it came out more pink. I then took the blue and watered it way down like 30 to 50 percent. It spread so much easier when I had the water added and the picture image was a photograph. It came out very nice indeed with plenty of detail. One thing to keep in mind is not to pour out of the bottle more than you are going to use at that time. I have a scarf that I add color to evertime I take out these dyes. I add color to it when I'm cleaning up. It's developing nicely.
Was this review helpful?


9
of
10
users found this review helpful.

5/7/2014
Jacquard reformulated these dyes just a few months after they launched them. Seems they worked out some formula issues and made some significant improvements. I find the he newer batches perform really nicely! I am really pleased with all the colors I have tried recently. I am getting much better results than I ever have with light-sensitive dyes. The product just seems much less fickle now. Colors are bright and bold. The Black develops nicely in sunlight and the other colors are much more consistent and beautiful. The fact that the dyes are now odorless and safe for kids is fantastic (my little nephew loves to watch the color magically appear!). Jacquard seems to know what they are doing--if you had any issues with these dyes when they first came out (Fall 2013) I highly recommend giving them another shot! I think they work great!
Was this review helpful?


8
of
9
users found this review helpful.
MOST RECENT REVIEWS

5/14/2021
I love these dyes! They are pretty easy to use and have made very sharp prints of leaves and other dried flowers for me. The only issue I've had with them is that they aren't really true to the color on the bottle so you're going to have to buy a few and test them out to find a color that you like. I wanted a dark foresty green and ended up using teal.
Was this review helpful?


4
of
5
users found this review helpful.

6/25/2015
I used the blue Solarfast dye to make T-shirts for a cub scout activity today and it worked great. Some things I did that worked really well: --I cut 8.5x11 poster board and got matching size transparencies. --The night before I used masking tape to mark a rectangle on the front of the shirt and used small binder clips to attach a sheet of poster board underneath. --That morning I painted each square and covered it first by a transparency and then by another sheet of poster board and clipped everything together (poster board transparency and painted shirt sandwich). I transported the pre-painted shirts in a light-proof box.We collected a lot of good leaves to share and use on the shirts and I had letter stickers. We went in a dark-ish room and I took off the top poster board and transparency from each shirt and the boys made designs with letter stickers and leaves. I then covered the design with the transparency so nothing would blow away and we took them outside to develop.--One thing I should have done was to blot the paint more andor have a fresh transparency to cover the shirts with rather than the one that already had some paint on it but they all turned out quite well anywayFYI it took a little less than 12 ounces of paint to cover 12 rectangles on T-shirts each of a size that was 7x9.5 (The painted area + masking tape was 8.5x11 inchesI used a whole 4 oz bottle of wash fluid--I don't know if it was necessary but the T-shirts were still looking good after another 12 hour in the sun after washing so it was enough.
Was this review helpful?


13
of
15
users found this review helpful.

6/10/2014
The green and yellow range is more challenging to wash (because the yellow dye is already yellow when it comes out of the bottle) but this product is super easy to use and it lets you do things you just can't do with any other dye. If using the greenyellow colors just use lots of hot water when washing. The SolarFast Wash also helps a lot. The rest of the colors are super easy to use and wash. I haven't had any problems and I get really bold deep colors in the California sun after about 11 minutes. I love this product and I always get results i like even if they are not exactly what I intended. I also love using the SolarFast Thickener to make screen prints that I then superimpose photos on. So cool! People are always asking me "how did you make DO that?!" It is also really nice that the product doesn't smell like chemicals anymore--you don't need to be in a ventilated space or worry about bothering your room mates. SolarFast rocks!
Was this review helpful?


6
of
7
users found this review helpful.

6/6/2014
We're trying this at day camp with objects. I've been experimenting and LOVE this dye but you better RINSE WELL! If using leaves the flatter the better. I'm using a clear cover to hold the objects flat but remove it after a few minutes. Easy to use!
Was this review helpful?


5
of
6
users found this review helpful.

10/3/2013
So much fun and so easy! There is a bit of a learning curve but after a few tries I got it down. Important things to remember: negatives must be truly opaque to produce truly white highlights--double the film for better contrast fabric must not be over-wet with dye for good photographic prints--blot with a paper towel until the dye is just barely damp before exposing wash with super hot water and use the SolarFast Wash--otherwise you might lose your contrast when using objects instead of film you don't need to worry about over-wetting--apply lots of dye! SolarFast must be wet to develop. When making photographic prints the filmglass keeps the moisture in during exposure. This means it will stay wet longer so you don't need as much. Actually if you don't blot enough it will create condensation which will ruin the print so make sure the fabric is super-saturated with dye! If you aren't using film or glass the sun will dry out the dye faster. This is when you want the fabric to be really wet with dye so it stays wet longer and yields bolder colors. Love this product! Practice makes perfect.
Was this review helpful?


4
of
6
users found this review helpful.

10/3/2013
Putting objects on material worked great.the dye was to dark and did not show very much of the design. Did I out to much dye? To long in the sun? Help loved the color! **Dharma comment: there is a definite learning curve to a product like this but the possibilities are amazing! Our cust. support staff just took a fantastic class from one of the owners of Jacquard. You did not identify yourself so PLEASE CALL us!!! We CAN help!!
Was this review helpful?


3
of
5
users found this review helpful.