Dear Dharma,
Our Tie-Dye Survivor party was a blast!


Our twin boys wanted their sixth birthday party to have a Survivor theme (the CBS show). We (Mom and Dad) decided it would be a fun theme for the games, so we agreed.
We decided to let the boys be team captains, and they each chose a color from the Dharma Trading Co. website fiber reactive dye color chart. We dyed a "Survivor pack" for each attendee, including a tie-dyed t-shirt, a bandana and a "loot" bag to keep their prizes.
When each child arrived, we had them pick a team color from a basket. We chose a Survivor pack with their color and wrote their name on the prize bag with a Fabricolor Chisel tip marker. They were asked to wear their shirts and/or their bandanas to show their team colors.
The "Survivors" competed in challenges as teams: Obstacle Course, Water Brigade, Jelly Belly Flavor Test, Water Balloon Toss, and Balance Beam Stand-Off. At the end of each game, each member of the winning team got first choice of one "prize" from a big bowl. Then the other team chose a prize also.
I did the entire dyeing process in one afternoon, using old cat litter buckets (cleaned first!) and some supplies and tub-dyeing instructions from Dharma. I accordian-folded each shirt and put rubber bands every two inches or so. Then I threw everything into the buckets. Super easy. Here's my materials list:
| | | |
| --- | --- | --- |
| Dissolve rock salt in kitty litter bucket filled with water | Measure the powdered fiber reactive dye | Add dye to salt water |
| Dissolve soda ash fixer powder in water | Accordian-fold the shirts and tie with rubber bands | Soak in dye buckets for an hour or two |
Everyone had a blast - the children and the parents who decided to stay for the party. There was lots of cheering and team spirit. The "team colors" aspect was a real treat - and all the kids got to take home a party favor bag with their name on it and a tie-dyed t-shirt. Awesome!
Thanks, Dharma for providing the supplies for our Tie-Dyed Survivor Party! We love your products and service and look forward to our next "excuse" to order!
-Sam
P.S. - Here's the "tree mail" we read before each challenge:
1. Run, balance, crawl - show your athletic ability.
You'll need determination, skill, speed and agility.
You can be short or tall - survivors of any size.
The team that finishes first gets first pick of their prize.
2. Close your eyes or leave them open, the next game is about taste.
No parents allowed - it would only go to their waist.
Test your knowledge of candy, flavors and fruit.
The best guesses have first choice from the loot.
3. You'll have to run but keep a steady hand,
As you work to move water over land.
First to fill - first choice you get.
Both teams are likely to get wet!
4. Underhand or overhand, choose your personal style.
While you throw your projectiles, always remember to smile.
Take a toss, then give your team-mate a tag.
Those with the most will be first to add to their bag.
5. Keep your cool - and your balance - for your last challenge in the yard.
Who knew that standing still could really be so hard?
You'll stand in line... then each will make a landing.
The grand prize will go to the last Survivor standing!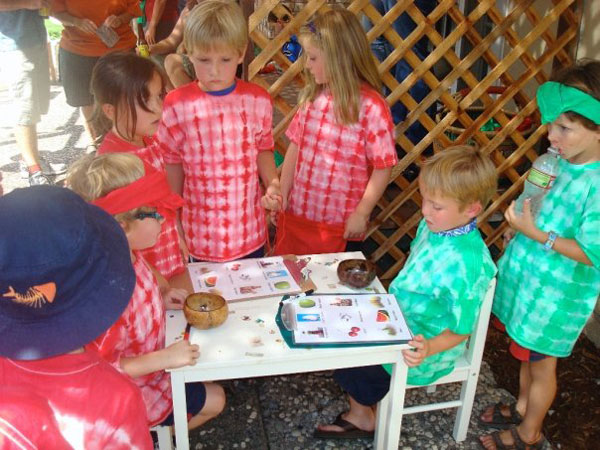 Tie Dye "Survivor"
Birthday Party
"Our twin boys wanted their sixth birthday party to have a Survivor theme (the CBS show)..." more...