Jacquard Acid Dyes
40 fantastic colors, from earthy to electric!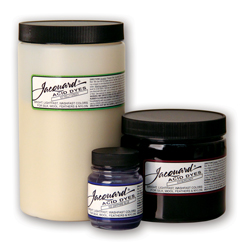 USE FOR: Tub Dyeing or direct application (with steaming)
USE ON: Protein fibers like Silk, wool, hair (fur), nylon, feathers, etc.
Average Customer Review

Click here
to add or update a review for this product.
MOST HELPFUL REVIEWS

4/21/2008
Lovely dyes very easy to use -- I've even done scarves with hot tap water in mason jars using this. The only con is that the colours come out a little light at times especially on raw silk but predying with grey or ecru to darken the fabric solves that.
Was this review helpful?


40
of
41
users found this review helpful.

10/27/2008
Colors are easy to use mix well when the shade I want isn't available and work well to steam or handpaint. Acidity is key for getting the dyes to bond with the fabric but washout happens in my silks and some colors will run (RED) not with nylons tho. Colors are as shown on the website DON'T go by the names.
Was this review helpful?


34
of
35
users found this review helpful.

12/17/2015
I dye yarn for a living fabric too but Mx dyes. I use a combination of Lanaset Dharma and some Jacquard. The Jacquard colors I use I always mix and often with Dharma or other Acid dyes. I love them. The colors are true weighed mixes are so close that I cannot see a difference in the colors after dyeing and drying. I cannot duplicate some of the basic colors Jacquard carries because the names are similar the colors are not. Jacquard Pink is a great example. It does not look like anyone else's Magenta or Fuschia. It stands alone. Behaves itself with vinegar (used with yarns with Stellina in them) and Citric Acid. I use the Cherry Silver Golden Ochre Aztec Gold and Sky Blue. I do not interchange the Jacquard colors with any other colors when a formula calls for them. If I don't have them on hand I do not dye that colorway. A really good mix is the Dharma Acid Sun Yellow with the Jacquard Aztec Gold overlaid with some other colors. I am happy with Jacquard Acid Dyes and even though I no longer buy some of everything from everyone I picked my favorites and Jacquard is in there because the colors have a purity to them that lends to blending beautifully. Even if you use someone else's Sun Yellow Jacquard is different enough to have a different outcome and worth the extra expense to have it around to make colors other people do not. I am thrilled Dharma carries them along with the house colors.
Was this review helpful?


24
of
25
users found this review helpful.

2/23/2008
I am new to silk dyeing but these dyes were very easy to use not messy and provided brilliant color and even saturation. (Was dyeing chiffon scarves for nuno felting.) Colors mixed well also. Would recommend to anyone!!!
Was this review helpful?


44
of
46
users found this review helpful.

3/1/2011
The Scarlet Red Yellow Sun and Brilliant Blue are great "true" colours for making any colour you can imagine! Easy and fun to use
Was this review helpful?


36
of
38
users found this review helpful.
MOST RECENT REVIEWS

4/18/2020
The only color I've used so far is the ECRU. I dyed 4 yards of the optically whitened silk crepe de chine in the hope of getting a true warm toned ivory. While the color took evenly and was very easy to use the shade it turned out was not at all what I expected! What I got was a cool toned taupe. It was way too dark and had way too much blue under tone! The directions state to use 3 teaspoons per 1 pound of fabric which is what I did. I should have only used 1 teaspoon as the end color was way too dark. I didn't want to waste $60+ of silk so I ended up using a color remover which did lighten the fabric but to a pale dove blueish gray color. I've already ordered some of the Dharma brand acid dye in both the 'ivory' color and 'Vanilla Cream' to try again. Wish me luck.
Was this review helpful?


4
of
5
users found this review helpful.

3/24/2017
These are my favorite dyes for silk. Easy to use so many pretty colors even dying exhausts well and completely colorfast if you heat to proper temps. I use stove top method with citric acid. I have used vinegar in the past but the citric acid works better is less expensive and more effective with no odor. You won't be disappointed! Go for it!
Was this review helpful?


5
of
5
users found this review helpful.

8/19/2016
I love these dyes for their brilliance but because I dye alpaca and wool fleeces I have to give them less then 5 stars as a caution to other dyers. The dyes strike at different rates so if you are trying to achieve a saturated color with a non-primary you may end up with something different than you wanted. I'm talking about the pre-mixed colors not even mixing your own. Since lock tips are slightly sun-damnaged they take up differently than undamaged fiber. This can lead to cool effects like a purple breaking into purpleblue and mauve. If you're open to what happens it can be fun. But if you're counting on that exact shade you can be disappointed. I find I often start with Jacquard dyes then end up using RIT for the complimentary colors I need. I've wasted too much fiber on colors that don't work. RIT is less lustrous but you can be sure that the color in your pot is the color that'll be on your fiber.
Was this review helpful?


11
of
12
users found this review helpful.

11/13/2015
Beautiful shawl dyes up so gorgeous! A real luxury item.
Was this review helpful?


1
of
1
users found this review helpful.

7/27/2015
These dyes are great for anyone looking to dye cotton please read that these are for protein fibers cotton is a cellulose fiber. I barely used any of the jars i had since I am doing small projects so these are going a long way. The Colors mix wonderfully and come out beautiful on silk.
Was this review helpful?


5
of
6
users found this review helpful.

11/27/2014
Excellent Dye stuff but I love the naturally dyes better. Experiment to know what works for you. Works wonderfully on silk and alpaca.
Was this review helpful?


0
of
0
users found this review helpful.

10/4/2014
I have been using Jacquard Dyes for Ten years I dye three to five pounds of feathers at a time these dyes are so stable and excellent for the fly tying industry.
Was this review helpful?


4
of
4
users found this review helpful.

7/9/2014
Just getting around to trying these out bought primary yellow burnt orange cherry and burgandy. I got some odd splotch colorings when i mixed my yellow and orange came out a bit marbled like they didnt want to play together i really liked the result so im happy with it. I havnt used the burgandy yet but i did want to warn people that the cherry red did not want to disolve... like at all.... ended up with some dye spots on my peice even after mixing up a good stock and stiring it into a dye bath for 15 mins or so.
Was this review helpful?


5
of
5
users found this review helpful.