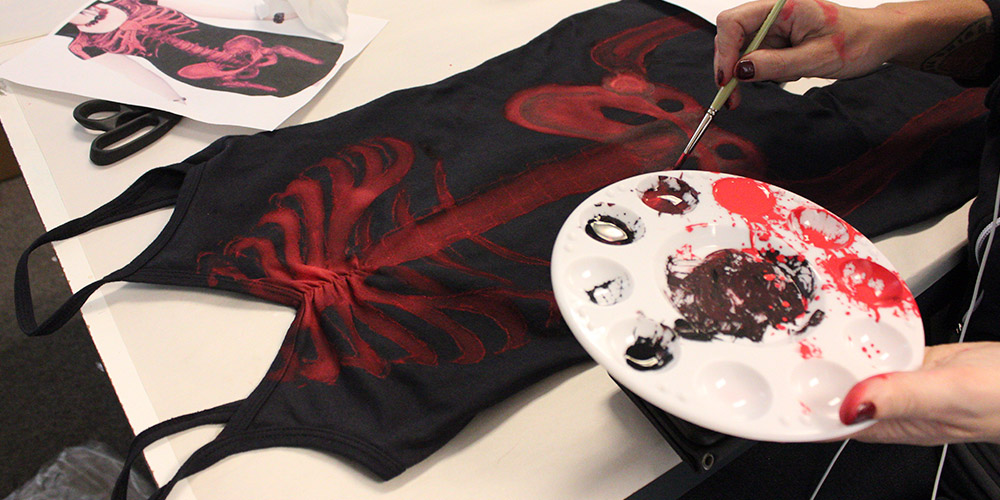 Fabric Painted Skeleton Costume
Let's get started!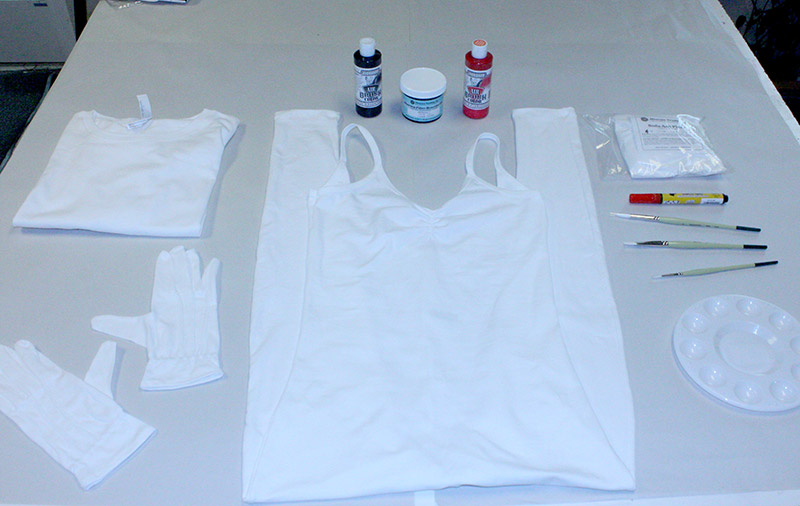 Dye the unitard, long sleeve shirt and cotton gloves using The Tub (Washing Machine, Vat, Bucket) Dye Method. Create a dye bath using using Dharma's Fiber Reactive Dyes. For this project we used PR200, which is called Raven Black.
Once all of the clothing items have completely dried we can create a rough outline of our skeleton on our unitard. For best results we actually suggest putting the unitard on and using a mirror to draw the starting points of the skeleton first. This will help give you a guideline of where your hips and ribcage fall on the unitard itself so the skeleton you paint will be properly centered and look more like your real skeleton. We then used the DecoFabric Fabric Markers in Opaque Red (#5) to do the initial outline.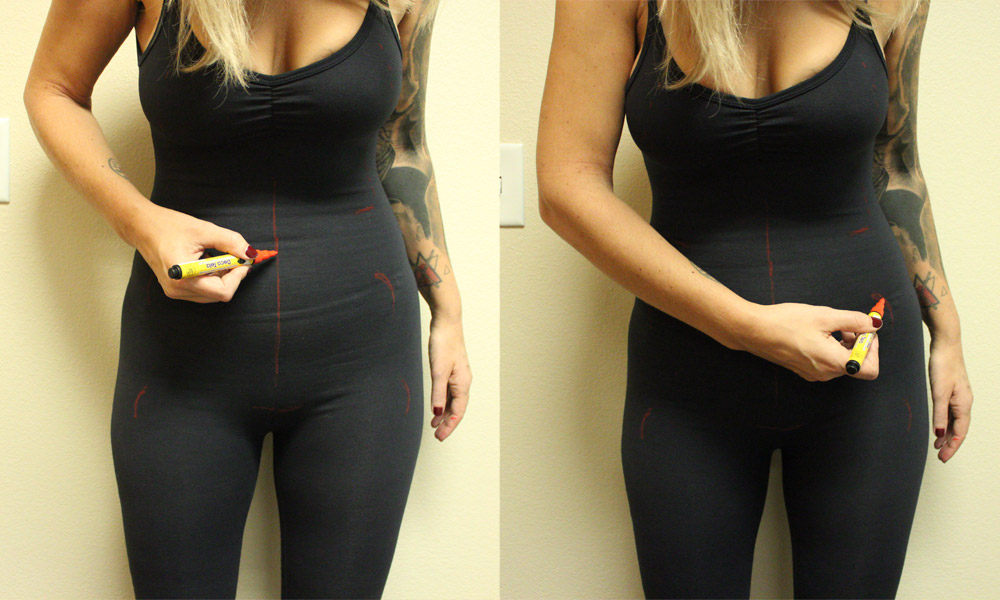 Once you have the starting points of your bones drawn out, take the unitard off and lay it flat on the table. Then continue using the fabric marker to start drawing out the skeleton in more detail.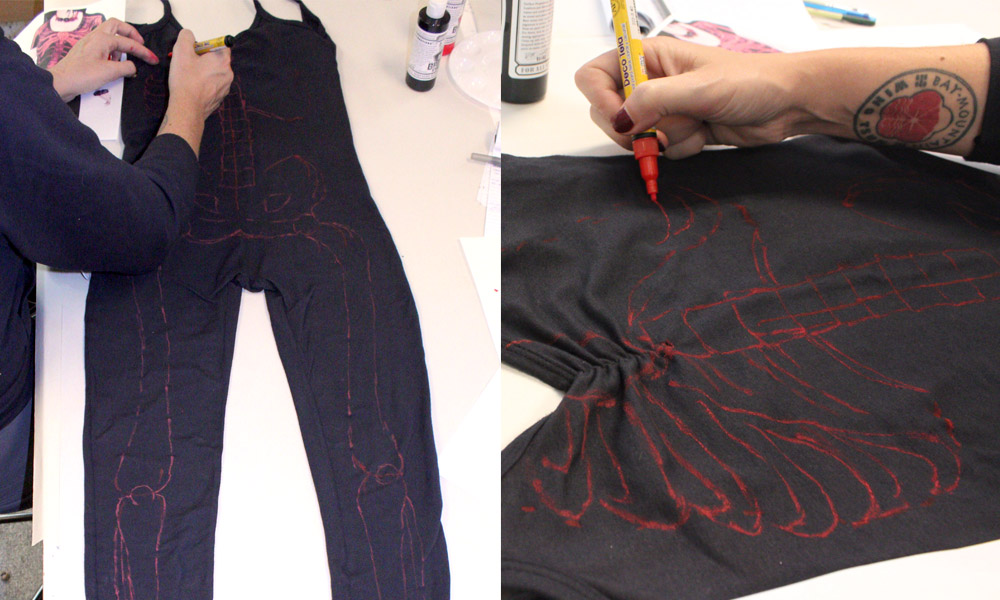 Once you have a more extensive outline you can begin painting the skeleton bones on the unitard using Jacquard's Airbrush Inks. We suggest sliding a sheet of plastic or some sort of disposable barrier between the front and back panels of the unitard so that the paint doesn't soak through from the front to the back of the unitard. We used Black #106 and Opaque Red (Primary) # 201 airbrush inks with the Richeson Silk Brushes (in particular the round brushes in sizes two and eight and the flat brush in ½" size). We painted in our bones using the opaque red, this took about 3 coats. If you want a more realistic effect, try some shading. While applying the 3rd coat, mix the red and black to create shadows of the bones themselves. We used the paint mixing palette for blending the black and red paints together when needed. To create the highlights let the paint dry overnight and draw the highlighted areas on using the red DecoFabric Fabric Marker. This is why we suggest buying 2.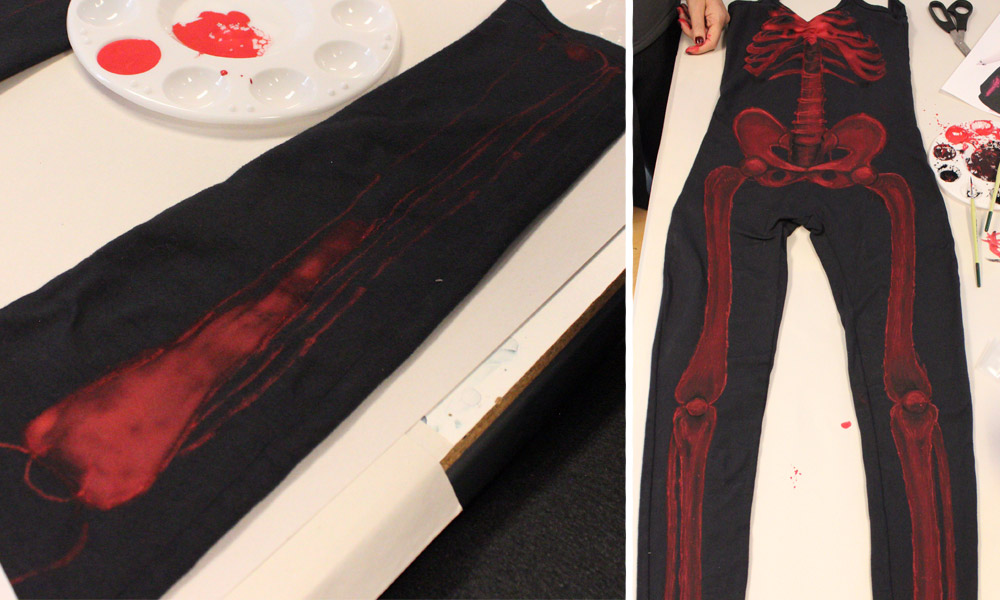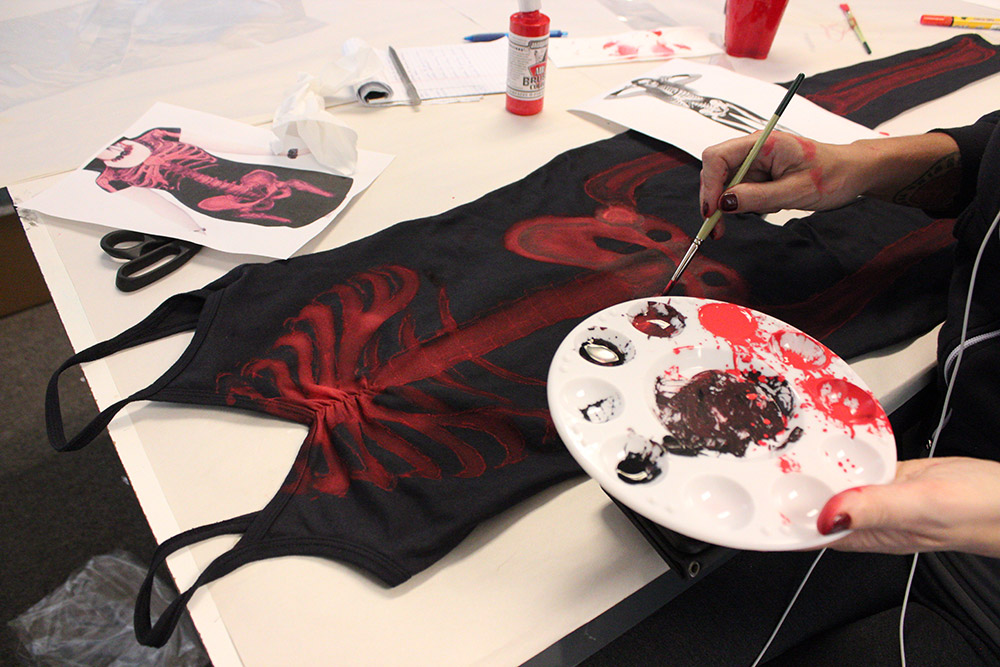 While the painted skeleton is drying, we can begin work on the cotton gloves and long sleeve shirt we'll be wearing with the unitard. We kept things simple and used the red DecoFabric Fabric Marker to draw the hand bones over the back of the cotton gloves, leaving small breaks for the knuckles on the fingers and adding some dots on the cuff of the glove to represent the wrist bones.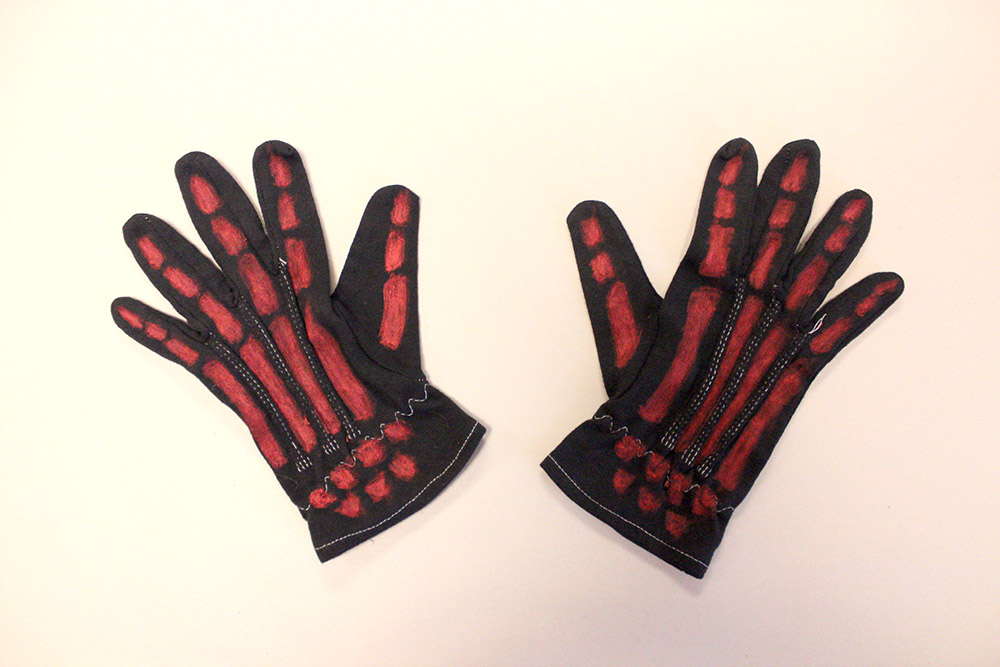 Since halloween occurs during the cooler fall months we also decided to make a shawl or jacket of sorts using a long sleeve tee shirt. First we put the long sleeve shirt on and used a mirror to draw an outline of our jacket. We used the fabric marker to draw a rough outline of where we would like to cut the front of the shirt so we could turn it into a jacket: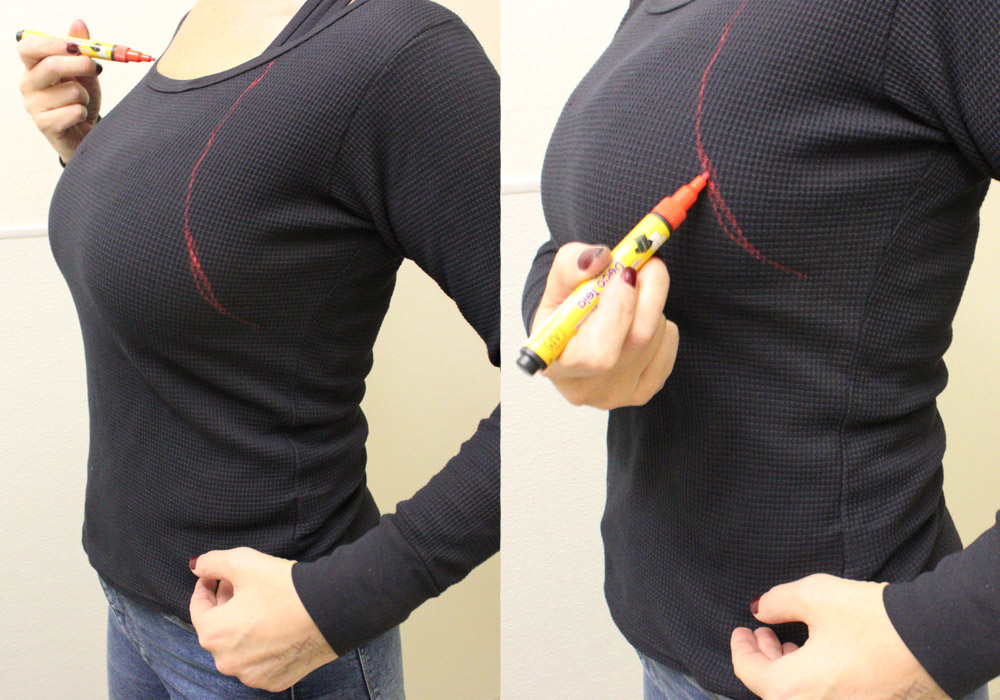 The end result allows for a long sleeved jacket instead of a shirt so you can show off the upper torso of your skeleton: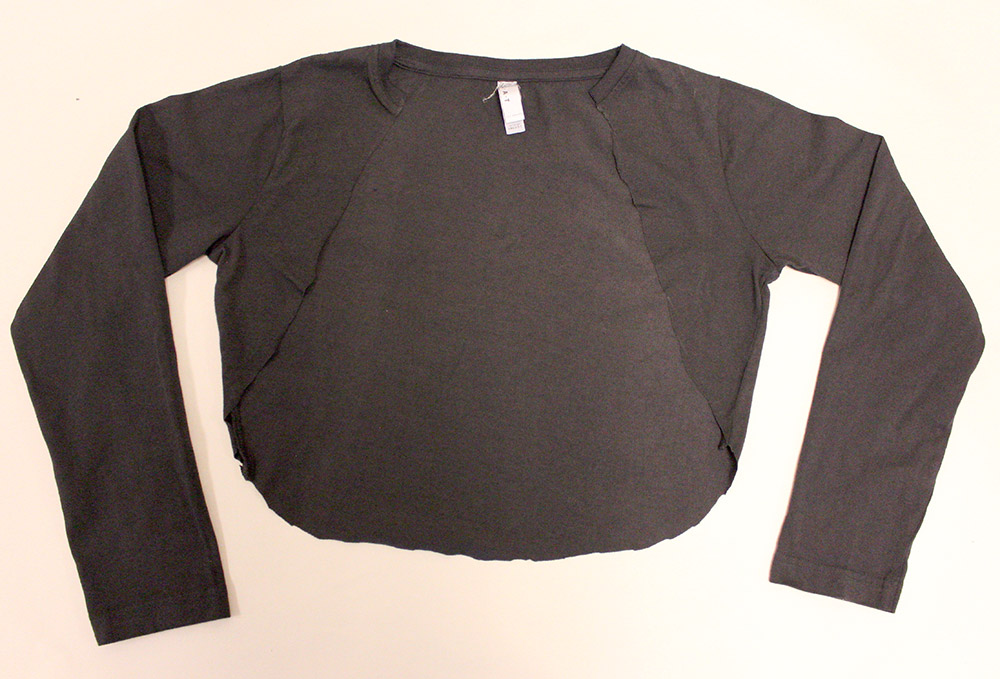 We wanted to embellish the jacket a little bit more so we decided to turn the sleeves into a fishnet style. We folded the sleeves in thirds and then cut two small slits on either side of the folded sleeves:
We continued that pattern moving down the arm and all the way up the shoulder, and the final result looks something like this: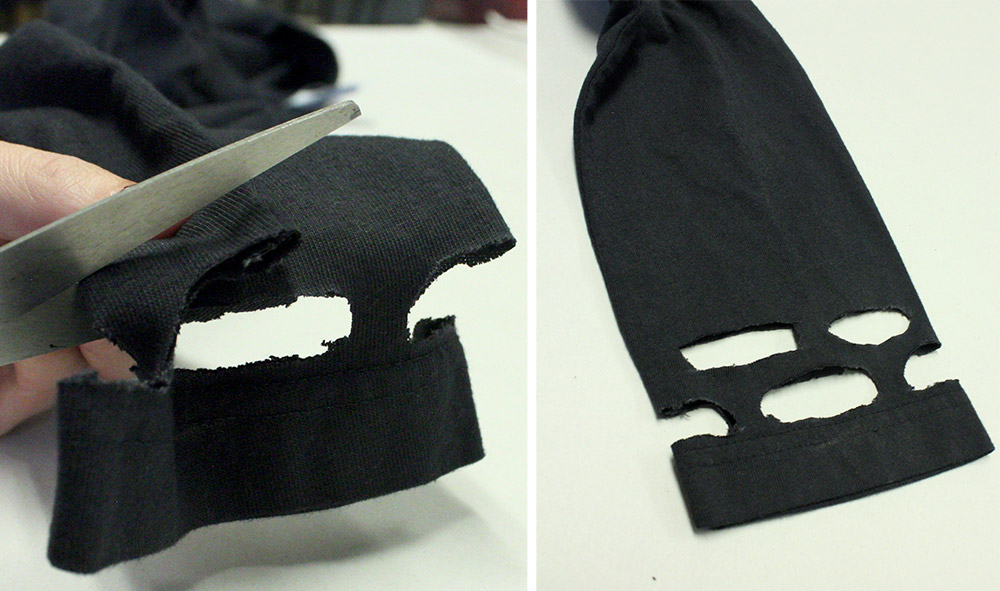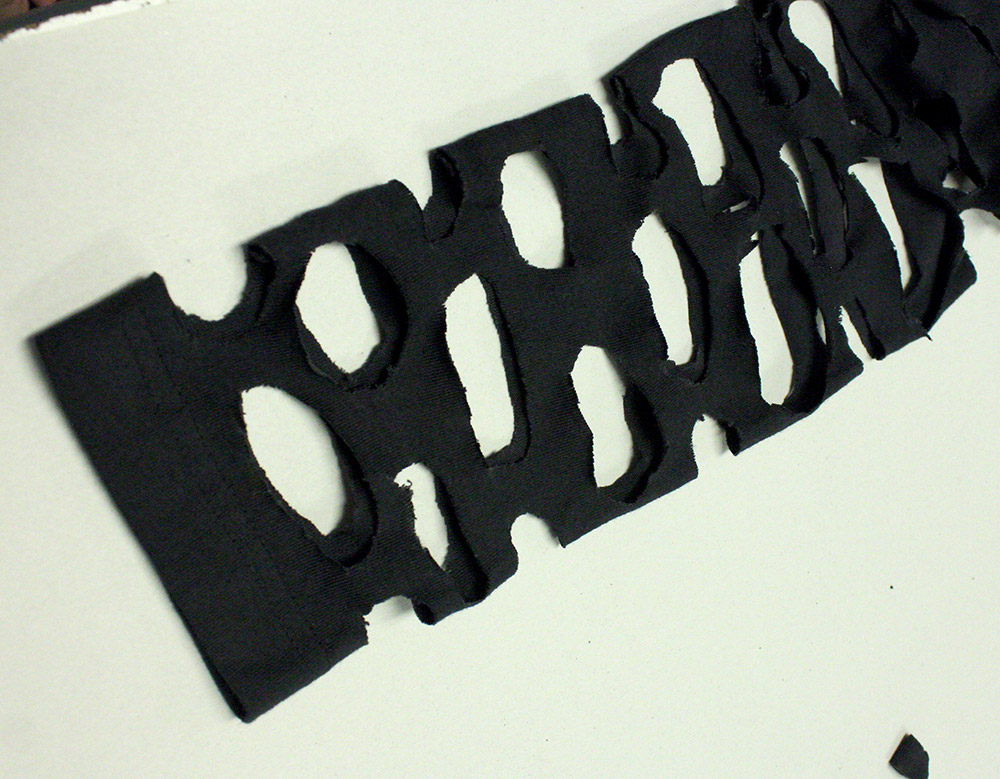 Now the fun part: putting together all these awesome pieces and trying on your costume! Here is our end result: