Ice Dyed Furoshiki
a Dharma featured tutorial
It's that time again, the holidays are coming! It happens every year, Christmas, Hanukkah, Kwanzaa or Festivus, depending on your holiday style. And with holidays come the gifts and all the gift wrapping. And with the wrapping, and tearing open, comes a great waste of paper. So how do we maintain our holiday spirit, still wrap and unwrap our gifts without the paper waste? One word: Furoshiki
Furoshiki are traditional Japanese wrapping cloths used to transport clothes, gifts, or other goods, and can be re-used ad infinitum for wrapping, making a quilt or wearing afterwards. Whip up some dyed cloths and wrap your gifts in them to save the environment and add some hand-made style to your gifts this year. Check it out!
Shopping list:
Dharma Fiber Reactive Dyes - We used #148 Pomegranate, #146 Kingfisher, #134 Moss Green, #161 Power Berry, #95 Royal Blue, #163 Cardinal Red
Optional: Mosquito Netting or Tulle
A tub and cookie rack or scrap fabric
Let's get started!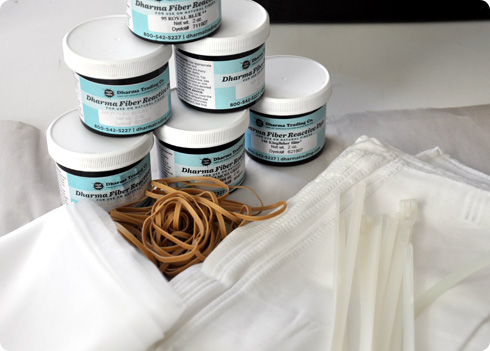 For best results, always pre-wash your items in hot water and the PTD or KDD.
Mix up your soda ash with warm water, 2 cups soda ash to 1 gallon of water. This is stronger than normal as the ice will dilute the soda ash as it melts.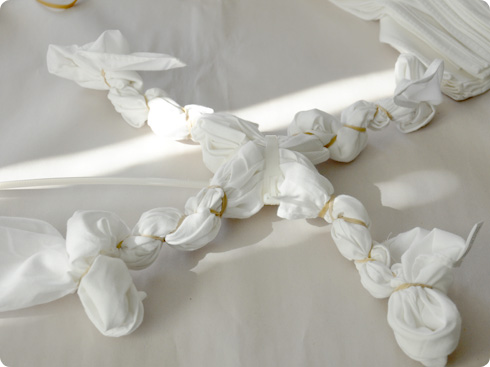 Tie up your Bandanas with re-usable zip ties, sinew or rubber bands. We did a few different folds for fun but if you want to be extra speedy you could just do a basic fold with all of the bandanas, or even a simple scrunch method. The ice dyeing will provide plenty of variation to make each one special. Add them to the soak as you go, let them sit in your soda ash solution for 5-10 minutes.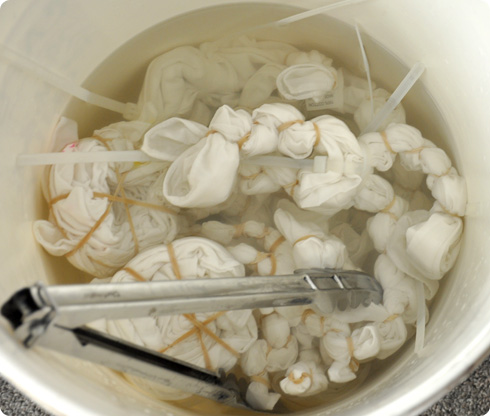 Place your tied up items in your tub. You should use a cookie rack, or something similar to lift your dyeables off the bottom of the tub, like we did in our general Ice Dyeing tutorial. We have come to like using fabric on the bottom to soak up all the dye and get random dye fabrics for other projects, especially quilts. The items on the bottom are soaked in soda ash and are just scrunched in randomly.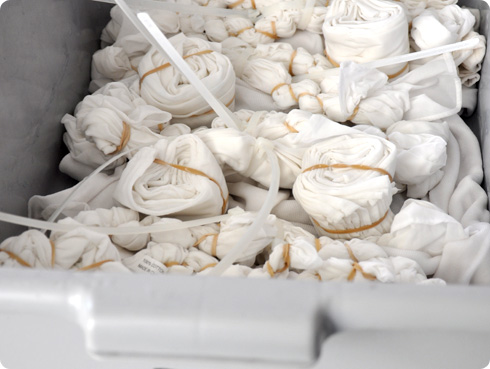 Cover everything in a good layer of ice, you don't want to see much fabric at all. This one bin used about half a 20lb bag of ice, so one big bag would easily do two dozen furoshiki!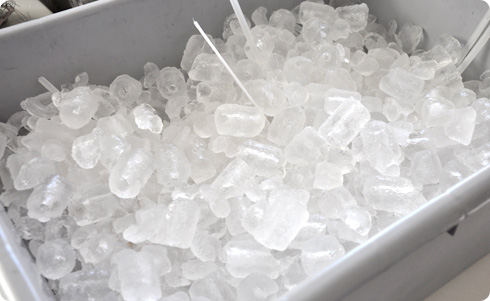 Now it is time to sprinkle on the dye. We simply applied the dye in rows across the bin, you can get even more random if you want but this makes it quick. Be sure to wear your dust mask and work in an area without any wind.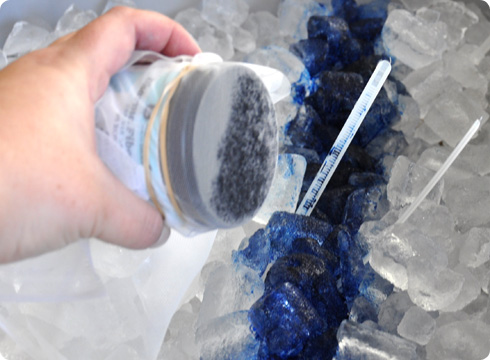 Pro Tip - Use squares of mosquito netting with rubber bands over the dye jars. This will let you sift the dye over the ice and avoid big clumps.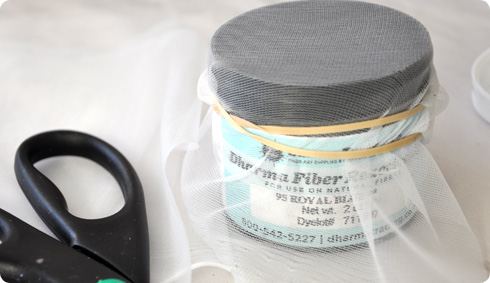 Once all the ice is covered with dye let it sit for 24 hours. You can cover the tub up if you want to keep out kids and pets. The most helpful thing for the dyeing process is to place it someplace warm so the ice melts and the warmth will help set the dye.
Rinse your furoshiki in cold running water as you open them up, then wash in the washing machine with HOT water and Professional Textile Detergent or Kieralon. Dry in the dryer or on the line if you don't want shrinkage.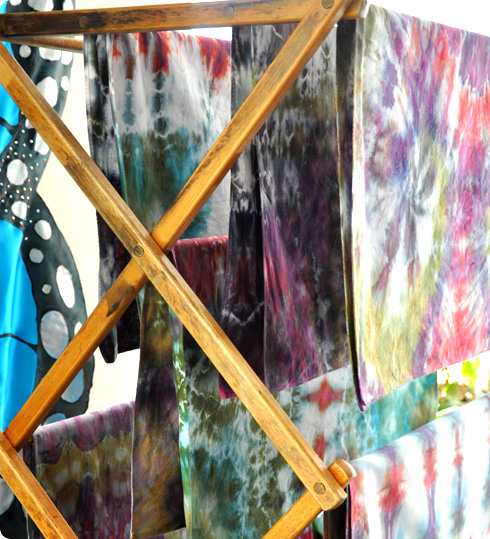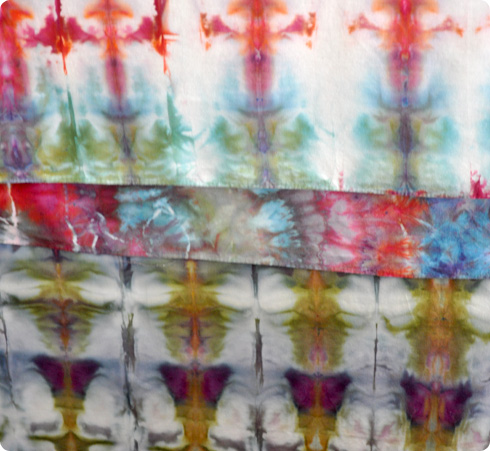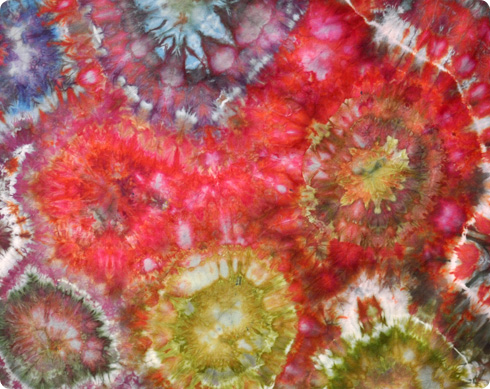 Now your furoshiki are ready to get wrapping! Here is a great PDF with different ways to wrap with them.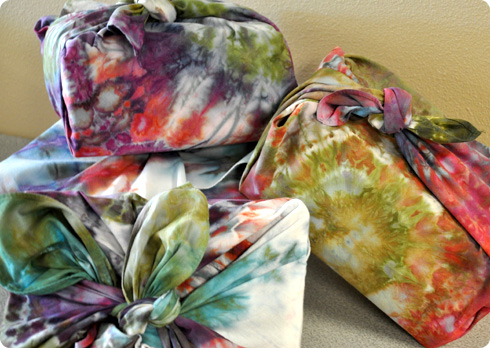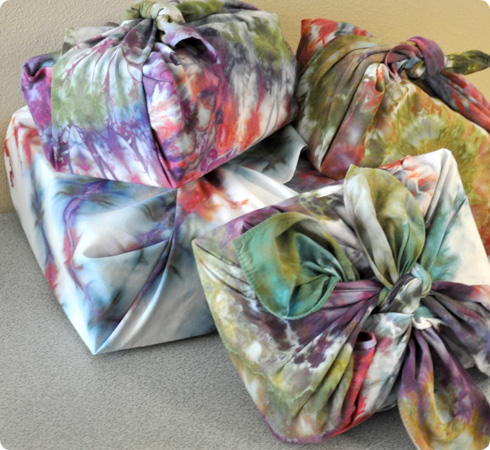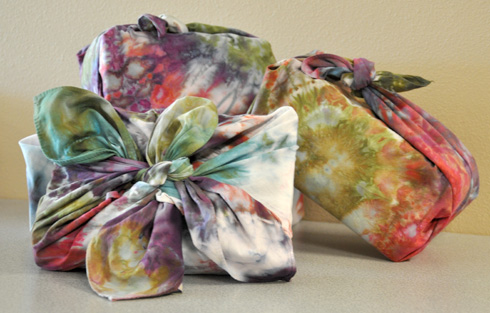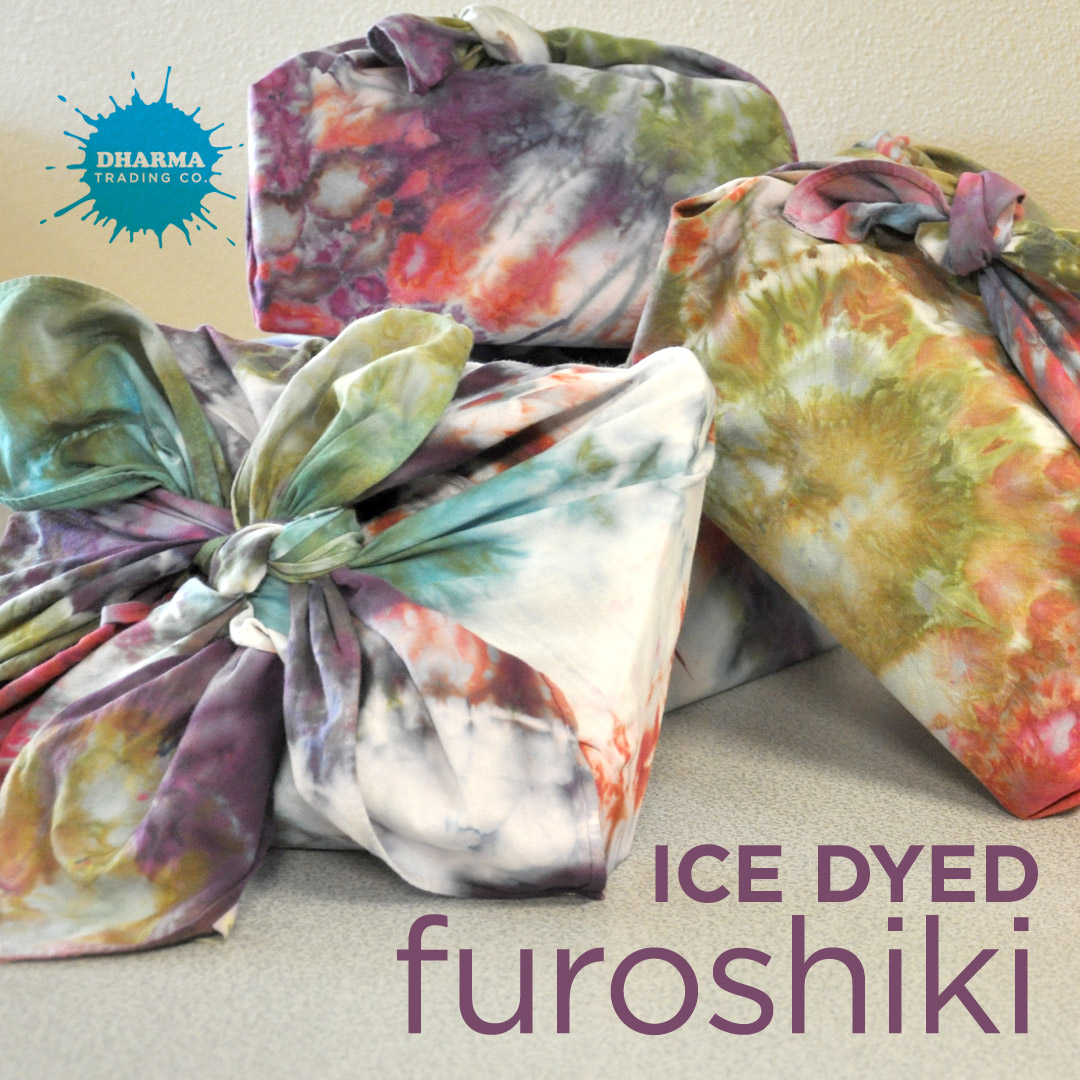 Happy Wrapping!