Dharma Fiber Reactive Procion Dyes
The #1 Best Dye for Tie-Dye & Dyeing Cotton, Rayon, Linen & Hemp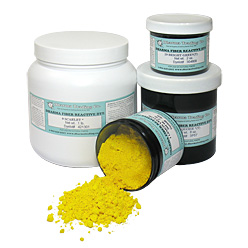 | Product Details | Price |
| --- | --- |
| 2 oz. starting as low as... | $1.95 |
| 8 oz. starting as low as... | $4.95 |
| 1 lb. starting as low as... | $8.30 |
| 5 lbs. starting as low as... | $7.48 per lb. |
| 10 lbs. starting as low as... | $7.05 per lb. |
| 25 lbs. starting as low as... | $6.65 per lb. |
USE FOR: Tie-Dye, Tub or washing machine Dyeing (solid color), Low Immersion Dyeing, Batik, Dye Painting, Silk Painting, Screen & Block Printing or Stenciling, even Tie-dyeing Silk in a Microwave
USE ON: All natural Fibers (Cotton, Rayon, Hemp, Linen, Silk, etc.), Wood, Cane, and Rattan
Average Customer Review

Click here
to add or update a review for this product.
MOST HELPFUL REVIEWS

4/11/2017
Wonderful dye - beautiful colours and highly recommended. I normally use Jacquard iDye for its simplicity smaller salt amount and no need for a fixer. However the colours are very limited and these Procion dyes are just beautiful. I bought Moss Green which is very rich and deep Sapphire Blue which is a very true darker blue (no reds or greens in it) Peony - very lovely pink but can be quite intense when more of the dye is used and Imperial Purple which is one of the most beautiful inky sexy purples! I just love it:) More on the bluish side which is what I wanted and very deep in colour. Using a smaller amount of this due yields a beautiful lighter blue-lavender shade and its just as delicious as the dark:) These dyes however do need to be very well dissolved and I recommend pouring the dye solution through a strainer lined with a paper towel. Keep adding water to the container the dye was mixed in to catch all of the particles as the colours separate a bit (you will see particles of reds blues and even yellows depending on the colour you are using) and swirl the water in the container to really get all of the particles out and strained through the paper towel. Once I did this I did not notice the tiny pin-prick dye spots on my fabric as I saw when I skipped this process and just dumped the dye solution into my water bath. This process is especially important for any dye that had red in it as red seems to be a very tricky colour to work with when dyeing.
Was this review helpful?


164
of
166
users found this review helpful.

5/15/2008
Lovely colors easy to use if you do your research. Stay bight and clear through many washings. Wonderful to make quilting fabrics with. Fun to mix and create new colors and be as creative as you wish to be. A plus is the customer service!!!
Was this review helpful?


98
of
100
users found this review helpful.

7/12/2008
The best dye for tie-dye batik fabric dye painting etc. Colorfast for years easy to use and inexpensive. I absolutely recommend it.
Was this review helpful?


60
of
62
users found this review helpful.

9/12/2012
There is no comparison between this dye and Ritfabric store dyes. It's more work but it shows.. The old addage "if a little is good more must be better" DOES NOT apply here. I must say with my first batch (olive green) I followed the directions to the letter and it came out way darker than I wanted. For my second batch I used half the amount of dye and cut the soak times by more than 50 percent..... Still darker than I would have liked! Note to new users such as myself: you will need to experiment if you are set on a particular shade.Bottom line: It isnt rocket science... Set aside plenty of time - especially on your first go - and (considering the advice above) follow the directions. You'll have great results!One more note: Having a front loader I used the low foam Synthaprol to wash. I shudder to think of the amount of foam I would have had with regular Synthaprol as it was still VERY sudsy with LF!
Was this review helpful?


109
of
113
users found this review helpful.

7/14/2008
We've been using this dye for years and definitley worth the extra effort (mixing chemicals like a mad scientist!). We used syringes (without the needle) to make awesome colors - just slurp up a bit of this and a bit of that and some water and you can get some outrageous colors but not too much of it so it saves dye. Thumbs up.
Was this review helpful?


114
of
120
users found this review helpful.
MOST RECENT REVIEWS
8/4/2022
was very disappointed when using raven black for ice dying every project i have used it on it had broken into this gross swamp green color instead of the blues that have been shown on here beware what you use this dye for! on the other hand everything else i bought on here has behaved perfectly well but i am having problems getting the deep orange to stay deep instead of turning into a pastel
Was this review helpful?


0
of
0
users found this review helpful.

7/24/2022
My daughter asked to tie dye with a friend yesterday. I had gathered everything years ago and had to go climbing through garage storage to get to my tie dye stuff. I found many bottles of dye mixed from 10 years ago. To use or not to use laziness prevailed. Im here to say dharma trading post dye mixed 10 years ago did great. The only color that didnt work was yellow and therefore green. Wish I could figure out how to post a picture because they are of course beautiful
Was this review helpful?


1
of
1
users found this review helpful.

7/3/2022
Consistent quality the only one I've had any oddness with is Yellow MX-8G... after dissolving some brownish particles always fall out of solution over the next day. Didn't happen with 8G from another vendor but also doesn't seem to affect anything even if the particles end up on fabric so it's only an oddity.I finally tried Bluebird and the newer colors (I'd already used Magenta MX-B before Dharma carried it... It's awesome and almost neon looking at 5g8oz grab some).Bluebird is deeper more saturated than any of the other blues at a given weight (I usually mix them at 6g8oz for mediums) and very slightly redder. Scarlet MX-G makes a good bright red. My first run used 5g8oz and more would probably be better with this one. Dharma's "hot" Scarlet which doesn't need hotter conditions than the MX dyes if set for 24 hours as I usually do is brighter at a lower weight but pricier and strikes more slowly in mixtures which can cause some weirdness.Houdini Blue MX-4R is a nice slightly violet shade easy to track when doing fades between similar blues thanks to the color shift and could be great for mixing blue-violets. It seems to want a higher OWG than I used on my first run (5g8oz to test) for full depth. I'd probably try 7g next time.Navy KCBN (who knows the actual MX code) looks more like what I think of as Navy than any of the others and is easier to mix thanks to needing half as much. It would make a good mixing primary for dark colors I think. 5g8oz was very deep for me making it much easier to dissolve than other navies at 8-10g.Dharma's MX dyes are much fluffier in general and less free-flowing than those from other companies I've ordered from. From personal correspondence they don't add anything to the pure colors which explains this. My MX dyes from Batik Oetero (yes I'm nuts and ordered from Australia to try napthol-diazo dyeing) and prochem both seem to have some small amount of granulating and or flow agents added so they have considerably less bulk for the same weight making weighing and pouring easier. The downside is that this also makes them dustier (Dharma's dyes kind of stick to themselves) which isn't a good thing for sensitizing agents. Dharma now has a bigger selection of pure MX dyes than anyone else in the US. Now I'd just love for someone to invent some pure MX bright greens so Dharma can carry those too... That's one color that seems to be lacking in reactive dye chemistry but available in all sorts of shades in pigment chemistry. :)
Was this review helpful?


3
of
3
users found this review helpful.

6/30/2022
I used 4 oz forest green on a very pale 7 lb cotton bedspread. Decided to get my hands wet in the dye bath in order to turn over the fabric. (And no did not have gloves on hand) Was too big and heavy to stir. Turned out great. Love the new color. Is a little light in some areas but I can live with it. Next time for that quantity of fabric will fold in half place on a plastic sheet on porch mix up dye in a watering can and apply for more even coverage with that.
Was this review helpful?


1
of
1
users found this review helpful.

4/28/2022
I am amazed at the colors and the brightness!! Scarlet Robin Egg Blue Lemon Yellow Bronze Blue Grey Raven Black and Green Chartruse* .. Follow the directions and your results will be amazing!!! Officially a loyal customer!Thank You Dharma!!
Was this review helpful?


2
of
2
users found this review helpful.

4/22/2022
bright beautiful better than I could have ever imagined!
Was this review helpful?


1
of
1
users found this review helpful.

4/19/2022
Love these dyes. So vibrant! I placed an order of about 15 colors mostly 8oz some 1lb. They came shipped so well in a timely manner. The containers were taped sealed so no spillage packed in packing peanuts and bubble wrap. Definitely recommend these dyes for anyone tie dying. They are extremely pigmented and apply beautifully.
Was this review helpful?


3
of
3
users found this review helpful.

2/14/2022
No other dyes can bond and set like Dharmas! I have brightly dyed items that have not faded one bit over 5 years of wearing. I do use heating pads in a cooler to batch my designs AND use double suggested dye amounts along with lud F and urea in dye water. Just beautiful dyes all the way around! Thank you for the reforms and hoops yall jumped through to keep us in dyes! Much appreciated!!!
Was this review helpful?


5
of
5
users found this review helpful.