Dharma Fiber Reactive Procion Dyes
The #1 Best Dye for Tie-Dye & Dyeing Cotton, Rayon, Linen & Hemp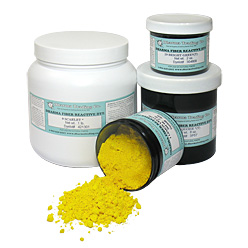 | Product Details | Price |
| --- | --- |
| 2 oz. starting as low as... | $1.95 |
| 8 oz. starting as low as... | $4.95 |
| 1 lb. starting as low as... | $8.30 |
| 5 lbs. starting as low as... | $7.48 per lb. |
| 10 lbs. starting as low as... | $7.05 per lb. |
| 25 lbs. starting as low as... | $6.65 per lb. |
USE FOR: Tie-Dye, Tub or washing machine Dyeing (solid color), Low Immersion Dyeing, Batik, Dye Painting, Silk Painting, Screen & Block Printing or Stenciling, even Tie-dyeing Silk in a Microwave
USE ON: All natural Fibers (Cotton, Rayon, Hemp, Linen, Silk, etc.), Wood, Cane, and Rattan
Average Customer Review

Click here
to add or update a review for this product.
MOST HELPFUL REVIEWS

4/11/2017
Wonderful dye - beautiful colours and highly recommended. I normally use Jacquard iDye for its simplicity smaller salt amount and no need for a fixer. However the colours are very limited and these Procion dyes are just beautiful. I bought Moss Green which is very rich and deep Sapphire Blue which is a very true darker blue (no reds or greens in it) Peony - very lovely pink but can be quite intense when more of the dye is used and Imperial Purple which is one of the most beautiful inky sexy purples! I just love it:) More on the bluish side which is what I wanted and very deep in colour. Using a smaller amount of this due yields a beautiful lighter blue-lavender shade and its just as delicious as the dark:) These dyes however do need to be very well dissolved and I recommend pouring the dye solution through a strainer lined with a paper towel. Keep adding water to the container the dye was mixed in to catch all of the particles as the colours separate a bit (you will see particles of reds blues and even yellows depending on the colour you are using) and swirl the water in the container to really get all of the particles out and strained through the paper towel. Once I did this I did not notice the tiny pin-prick dye spots on my fabric as I saw when I skipped this process and just dumped the dye solution into my water bath. This process is especially important for any dye that had red in it as red seems to be a very tricky colour to work with when dyeing.
Was this review helpful?


131
of
132
users found this review helpful.

5/15/2008
Lovely colors easy to use if you do your research. Stay bight and clear through many washings. Wonderful to make quilting fabrics with. Fun to mix and create new colors and be as creative as you wish to be. A plus is the customer service!!!
Was this review helpful?


86
of
87
users found this review helpful.

7/12/2008
The best dye for tie-dye batik fabric dye painting etc. Colorfast for years easy to use and inexpensive. I absolutely recommend it.
Was this review helpful?


53
of
54
users found this review helpful.

7/14/2008
We've been using this dye for years and definitley worth the extra effort (mixing chemicals like a mad scientist!). We used syringes (without the needle) to make awesome colors - just slurp up a bit of this and a bit of that and some water and you can get some outrageous colors but not too much of it so it saves dye. Thumbs up.
Was this review helpful?


105
of
109
users found this review helpful.

9/12/2012
There is no comparison between this dye and Ritfabric store dyes. It's more work but it shows.. The old addage "if a little is good more must be better" DOES NOT apply here. I must say with my first batch (olive green) I followed the directions to the letter and it came out way darker than I wanted. For my second batch I used half the amount of dye and cut the soak times by more than 50 percent..... Still darker than I would have liked! Note to new users such as myself: you will need to experiment if you are set on a particular shade.Bottom line: It isnt rocket science... Set aside plenty of time - especially on your first go - and (considering the advice above) follow the directions. You'll have great results!One more note: Having a front loader I used the low foam Synthaprol to wash. I shudder to think of the amount of foam I would have had with regular Synthaprol as it was still VERY sudsy with LF!
Was this review helpful?


94
of
98
users found this review helpful.
MOST RECENT REVIEWS

9/21/2021
I just started ice dying for fun. These reactive fiber dyes seem true to color and they are VIBRANT. The first time I used a lot more dye than I needed. The second time made me realized these 2oz bottles will last me a longgggg time :) Just waiting for more beautiful colors to come back in stock. Im so glad this website store exists.
Was this review helpful?


3
of
3
users found this review helpful.

9/16/2021
I bought some dyes to try with ice dying and regular cold water dying. Both came out great! I plan on purchasing a bunch more once a few more come back into stock!
Was this review helpful?


0
of
0
users found this review helpful.

9/6/2021
Warning about Brazilnut - it's great for ice dying or whenever you want the sure to split into it's component colors. But I tub dyed a large load that came out a beautiful uniform shade of slate blue! Not a sign of any brown. May have been some user error as I used less than the formulas because I was hoping for a lighter shade but I have successfully used many other colors in this range with no issues over the years. So not necessarily a problem but I would have appreciated knowing the risk ahead of time. It's a known issue as I found several photos online where it happened the same to others.
Was this review helpful?


2
of
2
users found this review helpful.

8/21/2021
Love the vibrant colors
Was this review helpful?


1
of
1
users found this review helpful.
8/19/2021
Most of the colors I got were great but I had this white linen dress that I wanted to turn a light sage-y green so I did a tub dye using wasabi. It came out much darker and much more blue than I was hoping it actually looks a lot like the color they have advertised as seaglass. I dont mind it but I wish it would have come out the way I imagined it. Definitely do a test dye before doing anything drastic.
Was this review helpful?


1
of
2
users found this review helpful.

8/12/2021
The colors are absolutely gorgeous and so vibrant. I wanted to do a shirts as a party favor for my moms birthday and her friends suggested Dharma. I'm so glad they did! It is a bit of work to get it all ready but thanks to their kits it made it so much easier. Everyone got to do their own and the end results were absolutely breathtaking. Kids from 3 to 87 enjoyed making them. Words cannot explain enough how wonderful these dyes are. We're already planning another party just to do it again. I highly recommend Dharma if you want beautiful lasting colors!
Was this review helpful?


1
of
1
users found this review helpful.

7/26/2021
Works excellently on leather cording! Brilliant colors that don't rub off. I mix up a paste with the alginate and apply with a gloved hand. Let dry for a week then condition the leather. This is the only thing that gave me beautiful colors and was colorfast on sweaty wrists. I've made about 100 leather wrap bracelets with this so far. Very easy to ombre with as well.
Was this review helpful?


2
of
2
users found this review helpful.

7/19/2021
I love these dyes. I have introduced my students to these as well as my friends. It really does something for your wardrobe knowing that if you don't like the color it's possible it can be changed. Every time..it's like Magic!! I'm a quilter and sometimes I over-dye fabrics sometimes it's clothes sometimes it's SOCKS with my students. (cheaper than a shirt) And the dyes work perfectly! Thank you Dharma!! (The grocery store "dye" is crap. I'm too spoiled with the good results from Dharma.)
Was this review helpful?


1
of
1
users found this review helpful.