Featured Artist : Sara Woodhull
|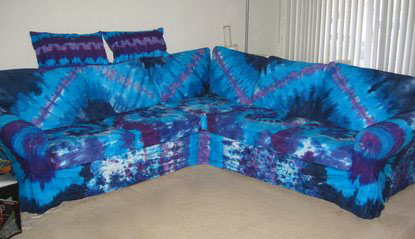 Artist Bio / Statement
Hi, I'm Sara Woodhull. I started doing tie-dye in 2003, when my then-turning-6 daughter wanted a tie-dye theme for her birthday party. A friend told me about Dharma Trading Co. I got some stuff, did a practice run two weeks ahead, loved the results, and I've been doing tie-dye ever since!
I get all of my dyes, chemicals, and most of my white stuff from Dharma. I use the Procion MX dyes and soda ash exclusively, even on silk, and I love the way the colors come out! I started with t-shirts, dresses (that's a "farmer's dress" in the picture), socks, and tote-bags, though I have since branched out to scarves, tapestries, and furniture! I have to say, those Dharma doggie hoodies are CUTE! I've enjoyed experimenting with stitch resist, using dental floss to stitch designs like the heart and the K (shown on a pillowcase) before dyeing. I also really like doing folded designs, such as on sheets and shirts.
I really enjoy teaching other people how to tie-dye. This is the fourth year I've done tie-dye with the entire first grade at a local school. The kids love the shirts they made! We had about a hundred kids this year. Besides teaching tie-dye at the elementary school, I've taught tie-dye at YMCA Family camp, Girl Scout meetings, and birthday parties. I've even done a few private lessons.
My first venture into dyeing furniture was on a friend's IKEA couch! It's a big L-shaped couch, and has a white cotton slipcover (the great thing about IKEA couches is the availability of slipcovers). It took about 4 hours to tie (separate pieces for each cushion plus the body), another 4 hours to dye, and another 4 hours to wash out. We went through nearly two gallons of dye! I liked his results so much that I got off-the-shelf slipcovers from Sure-Fit for my own sofa, loveseat, and chair. Like the first couch, this project took about 4 hours to tie, 4 hours to dye, and 4+ hours to wash. This project also took about two gallons of dye. Now I finally have matching furniture, and I love them!
Please visit my web page at http://www.amethistle.com or send me email at tie-dye@amethistle.com. Thanks!
Sara
Contact Info