Featured Artist : Melissa Simpson
|

www.aurorasilks.com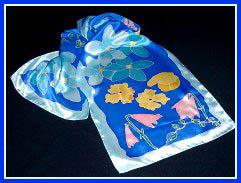 Artist Bio / Statement


The transition from winter to spring in Alaska lasts about two weeks, followed by immediate, glorious summer. When the sun is out all day and night, flowers push up to bloom in a rush, moose and caribou calve inside a week's time, mosquitoes feed hoards of migratory birds, and everyone goes outside for any and no reason at all. All this beauty!

Walking through the woods and countryside of rural Alaska inspires me. Leaves, wildflowers, the blue of the sky - after eight months of snow, it's as if one has just acquired sight! Color, texture, sights, and sounds register strongly.

I was inspired to try silk painting from seeing hand-painted dresses in a Threads Magazine, flew to Santa Fe for an introductory class in silk painting. We had a materials list from Dharma where I bought a starter set of Dupont dyes. I use traditional Dupont silk dyes that are steam set because the colors are positively glorious, translucent, luminous, and strong. I've yet to make that silk dress, but my scarves at the University of Alaska Museum, the Pratt Museum, and galleries let people take home a gift with regional content. I've twice been a guest artist in Nordstrom's, which was a lot of fun. Come visit my online catalog at <http://www.aurorasilks.com/>www.aurorasilks.com and be sure to say hello in the guest book.

Favorite tools and products from Dharma include color-mixing cups, silk clips, Identipens, fabric painting brushes, Syhthrapol, Milsoft, Reduran hand cleaner, and books. My favorite silk books are Silk Painting by Susan Moyer and Silk Painting by Jill Kennedy and Jane Varrall. My favorite scarves are and silk satin 12mm. Dharmas catalog is a fun read which inspires new ideas. That must be why I have other project materials from Dharma like Procion dyes, batik wax, and Versatex paints.
Contact Info