Natural Dyes 101: Annatto and Osage Orange
a Dharma featured tutorial
In this tutorial we are looking at a couple of natural dyes that produce shades of yellow and red-orange. A lot of plants produce shades of yellow; some are more wash fast and fade resistant than others but in general, yellows are the first colors to fade in naturally dyed textiles. To protect your naturally dyed items it is good to keep them out of direct light.
Annatto seeds come from the Central American shrub, Bixa Orellana. The seeds produce the dye compound bixin which gives a range of shades from yellow to reddish-orange. Annatto extract is used to color foods, such as cheese, as well as textiles. Even though it is one of the less lightfast natural dyes, annatto is popular because it is safe to use with kids and easy to source.
Osage Orange, Maclura Pomifera, is a shrub-like tree that is unrelated to citrus oranges and is native to the United States, mainly Texas. It produces a textured fruit that isn't popular for eating. The wood is used for woodworking. It is the heartwood, not the fruit, which produces a bright yellow dye that we can use on textiles.
Supplies:
A pot (or two)
Silk or wool items - we are using yarns Cascade 220 and Rapunzel
Containers for soaking the dye stuffs
Blender
Dedicated dyeing spoons for stirring
twine
Let's get started!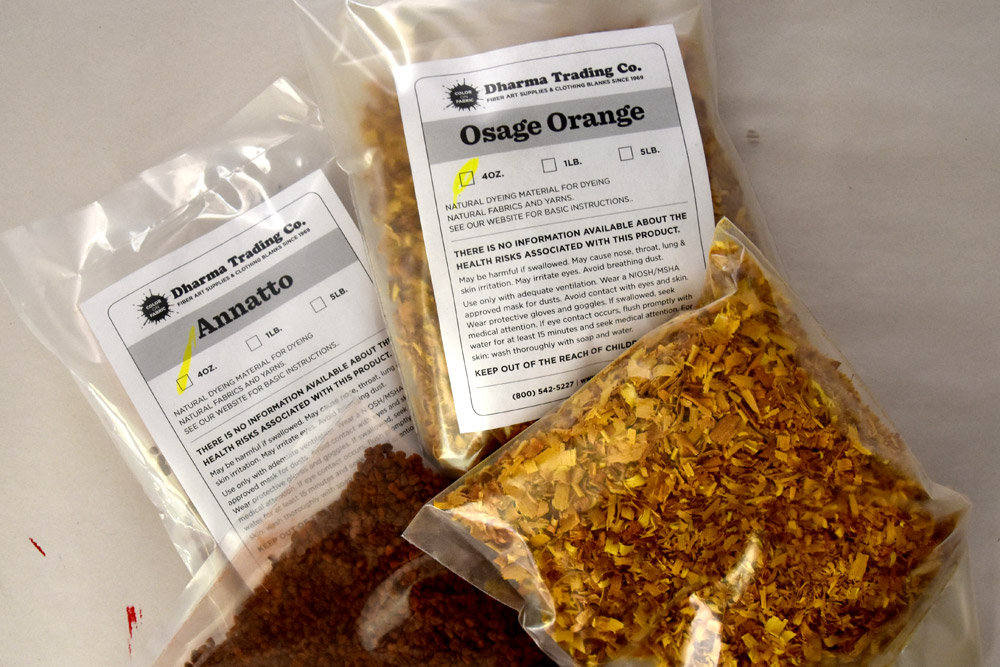 Weigh one skein of each type of fiber. We will need an equal weight of the dye material (dyestuffs) for a rich color. Cover the dyestuffs with water and soak them overnight.
Example: For 8 oz. of yarn, you will need 8 oz. of Annatto OR Osage Orange. If you wish, use less to get lighter shades.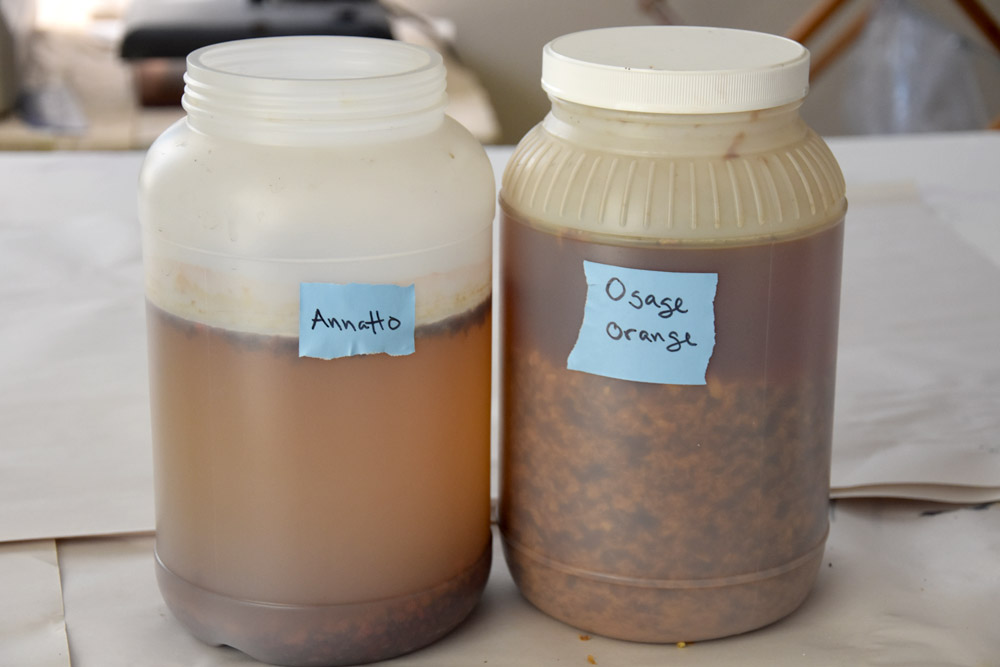 To mordant 1 lb. of yarn, simmer the yarn with 1.75 tsp of alum and, optionally, 1 teaspoon cream of tartar for 1 hour. Allow the fiber to cool in the solution and then squeeze out excess water from material. It can stay damp overnight, no need to worry about drying it.
Pro Tip:
You can mordant on the same day as dyeing. If you are doing a small batch of yarn or material, once it is mordanted you just move it over to your pot with the dyestuffs already at a simmer.
After the dyestuffs have soaked overnight, you can blend up the Annatto with some of the water it was soaked in. The Osage Orange does not need to be blended.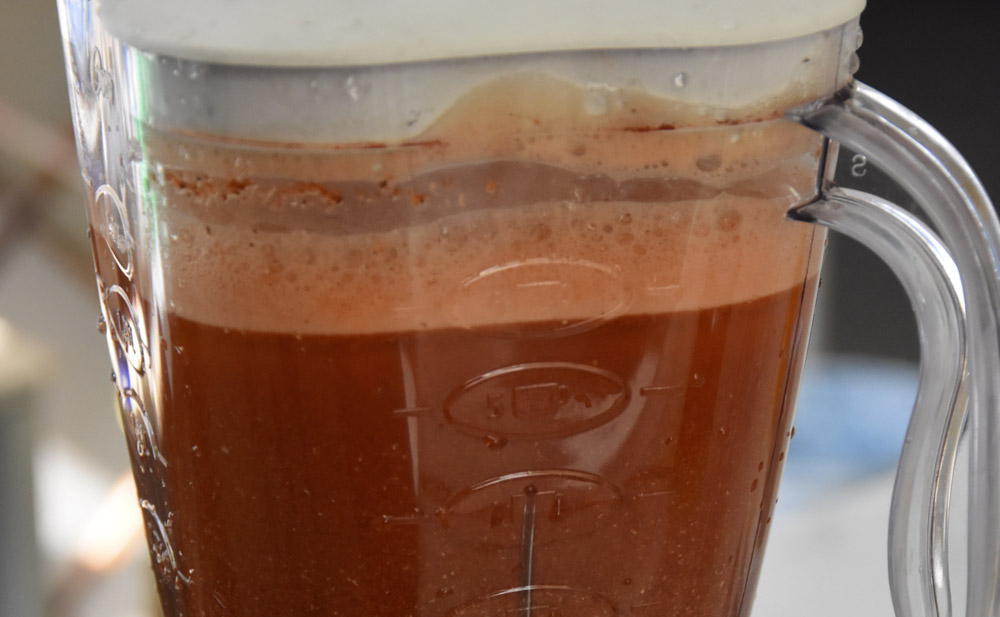 Line your pot with the cotton muslin and then pour in one of the dyes. Gather the muslin to strain out the dyestuff from the extract. Use a bit of the twine to tie up the muslin with the dyestuff to make a sort of tea bag.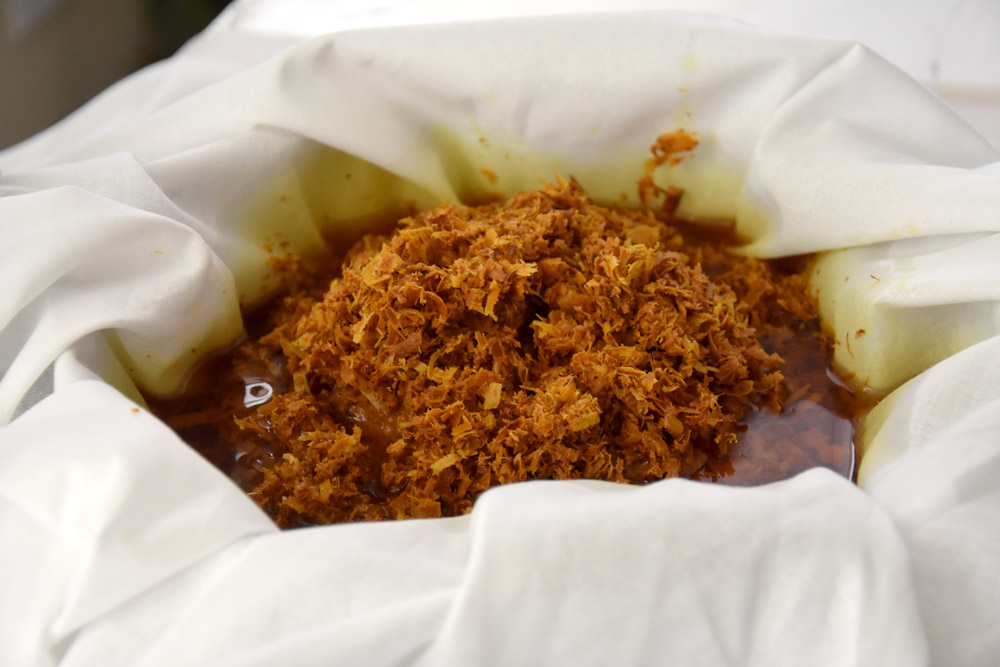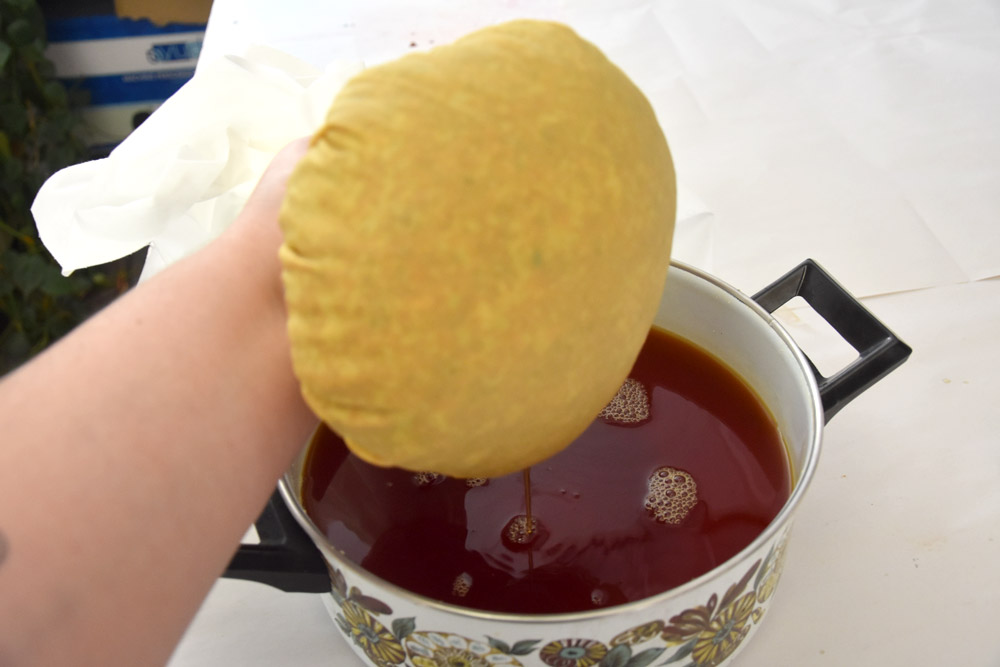 Return the bag of dyestuffs to your dyepot, then add more water so there will be plenty to cover the yarn. Turn on the heat and bring to a low simmer, around 180 F (not a boil!). Allow to simmer for 45-60 minutes to extract even more color from the dyestuffs.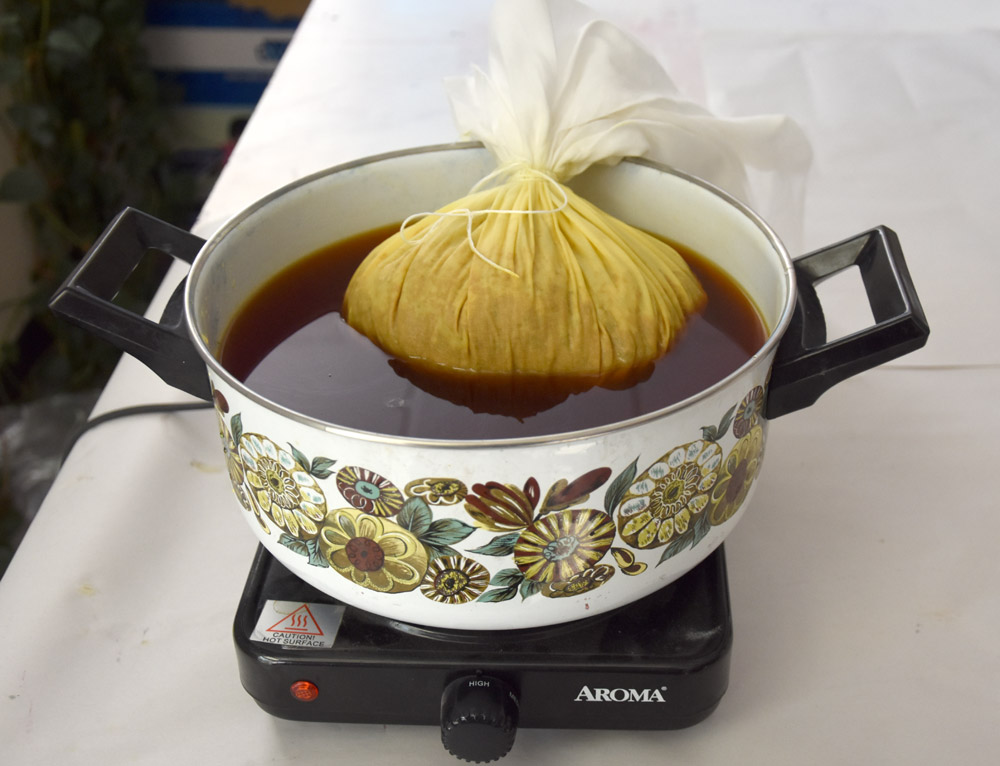 Once the dye bath has simmered long enough it is time to remove the pouch of dyestuffs and add the yarn. The yarn should simmer in the dye bath for another 45-60 minutes.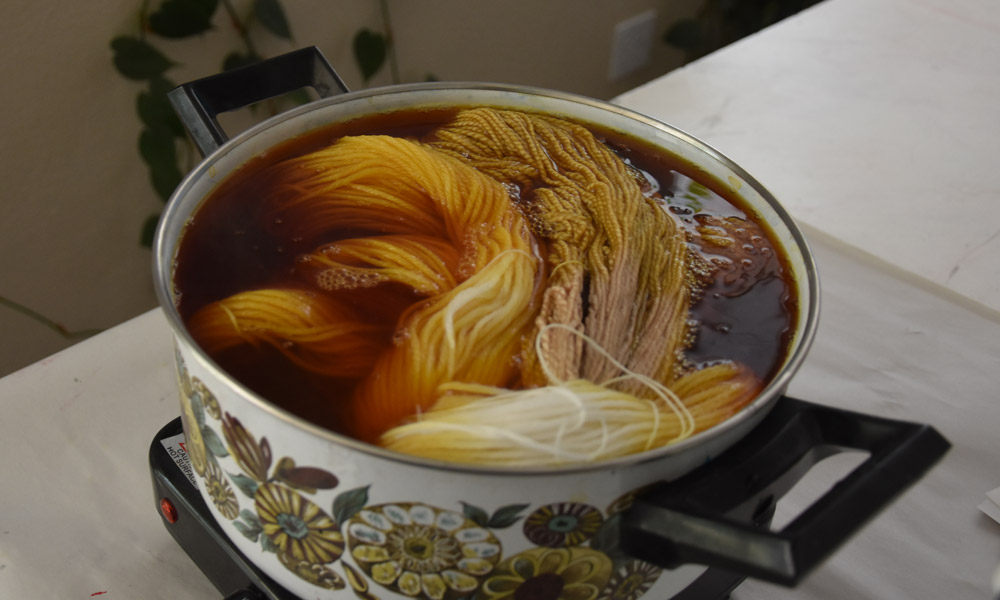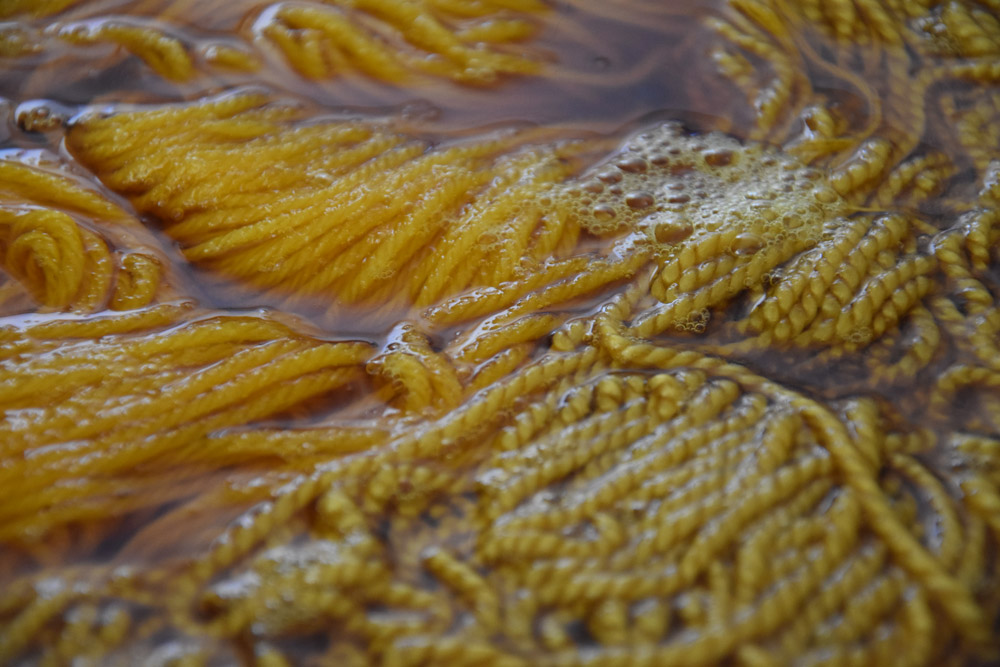 Let the dye bath cool down significantly, room temperature is best, before you remove your yarns. Wool especially can start to felt if taken from a hot dye bath to a cool rinse. Rinse the yarns well, in cold water, until the water runs clear. If you wish, you can use a little Milsoft fabric softener on the silk or some Eucalan Wool Wash.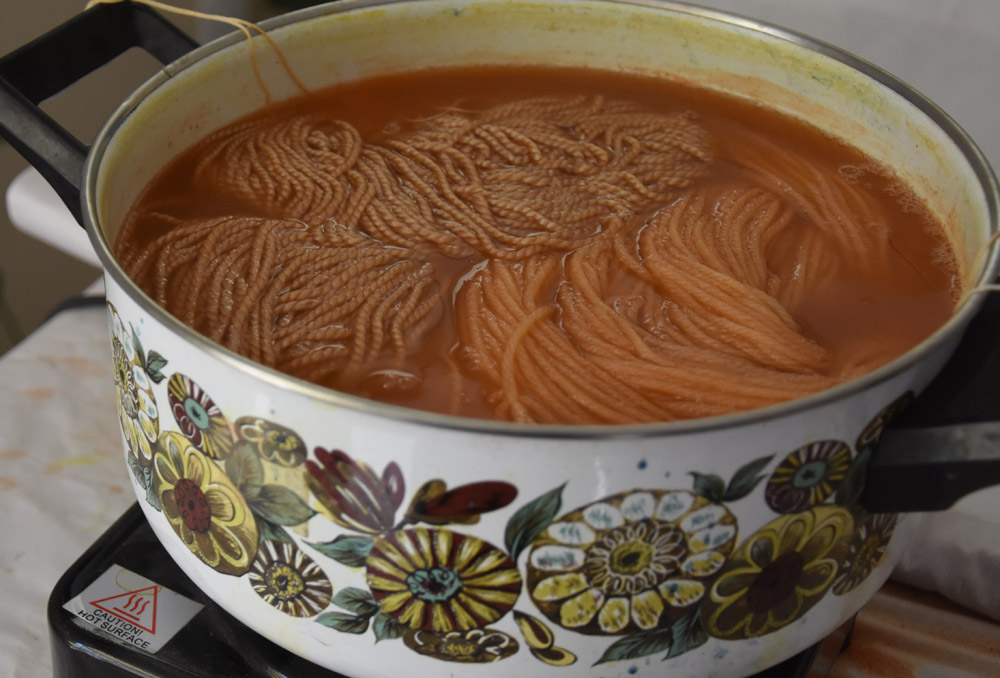 Now you just have to decide what to make with your lovely naturally dyed yarn.
LEFT: Annatto, RIGHT: Osage Orange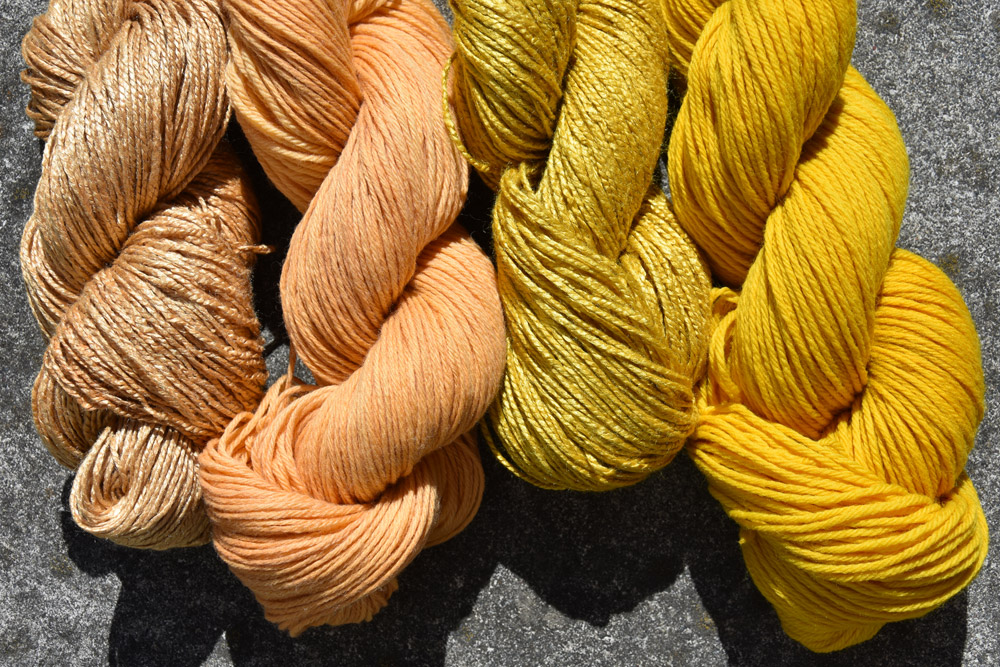 LEFT: Annatto, RIGHT: Osage Orange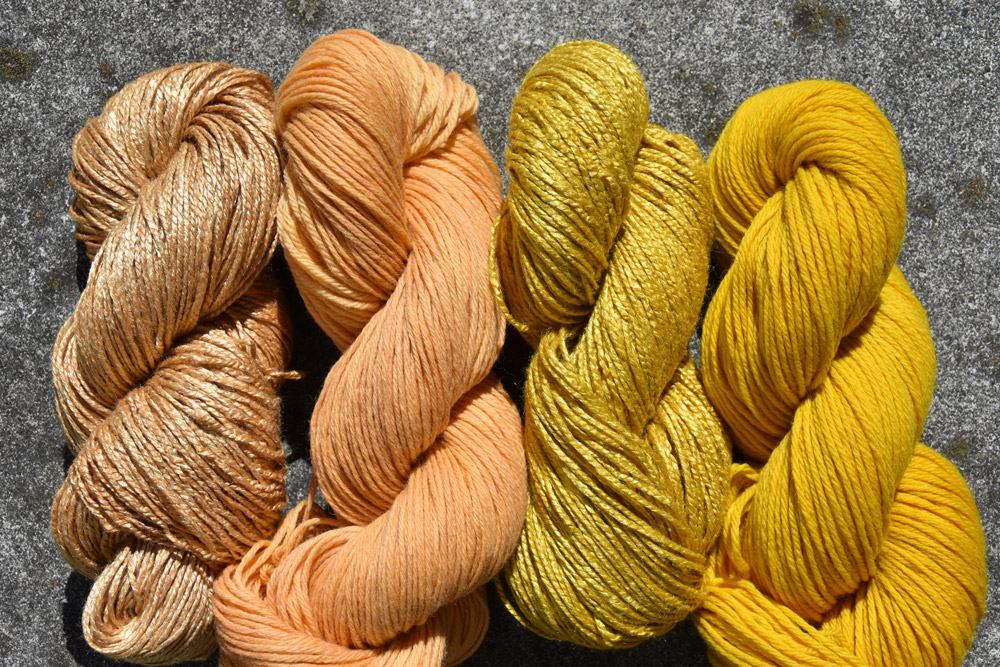 LEFT: Osage Orange, RIGHT: Annatto