Dharma Fiber Reactive Procion Dyes
The #1 Best Dye for Tie Dye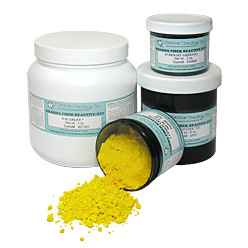 USE FOR: Tie-Dye, Tub Dyeing, Low Immersion Dyeing, Batik, Dye Painting, Silk Painting, Screen & Block Printing or Stenciling, even Tie-dyeing Silk in a Microwave
USE ON: All natural Fibers (Cotton, Rayon, Hemp, Silk, etc.), Wood, Cane, and Rattan
Average Customer Review

Click here
to add or update a review for this product.
MOST HELPFUL REVIEWS

5/15/2008
Lovely colors easy to use if you do your research. Stay bight and clear through many washings. Wonderful to make quilting fabrics with. Fun to mix and create new colors and be as creative as you wish to be. A plus is the customer service!!!
Was this review helpful?


39
of
39
users found this review helpful.

7/12/2008
The best dye for tie-dye batik fabric dye painting etc. Colorfast for years easy to use and inexpensive. I absolutely recommend it.
Was this review helpful?


29
of
30
users found this review helpful.

7/14/2008
We've been using this dye for years and definitley worth the extra effort (mixing chemicals like a mad scientist!). We used syringes (without the needle) to make awesome colors - just slurp up a bit of this and a bit of that and some water and you can get some outrageous colors but not too much of it so it saves dye. Thumbs up.
Was this review helpful?


55
of
57
users found this review helpful.

9/12/2012
There is no comparison between this dye and Ritfabric store dyes. It's more work but it shows.. The old addage "if a little is good more must be better" DOES NOT apply here. I must say with my first batch (olive green) I followed the directions to the letter and it came out way darker than I wanted. For my second batch I used half the amount of dye and cut the soak times by more than 50 percent..... Still darker than I would have liked! Note to new users such as myself: you will need to experiment if you are set on a particular shade.Bottom line: It isnt rocket science... Set aside plenty of time - especially on your first go - and (considering the advice above) follow the directions. You'll have great results!One more note: Having a front loader I used the low foam Synthaprol to wash. I shudder to think of the amount of foam I would have had with regular Synthaprol as it was still VERY sudsy with LF!
Was this review helpful?


41
of
43
users found this review helpful.

12/12/2008
I've been using these dyes on silk using the microwave method for 2.5 years now. The dyes themselves are great and worth 5 stars but as an FYI for those planning on working with silk via this method the swatches are not consistently accurate. When I buy new ones I test on one of the 11x11 hankies to get a feel for the color - then I mix my colors to create when I am looking for... with great success I might add - one of my most complimented colors is one I concocted myself :) I've also used these on silk with the cold batch method and found that the colors were even more significantly different using that method - so I would not recommend that method with silk and these dyes... you can dye paint using the microwave method - you just need to get creative in how you put the scarf in the bag
Was this review helpful?


41
of
45
users found this review helpful.
MOST RECENT REVIEWS

2/6/2017
After a few times using a lesser quality dye I upgraded to Dharma dyes and chemicals. I was a little intimidated by the mixing having previously used a premixed dye but it was so easy! I purchased a tie dye kit to get all the essentials and chemicals. I'm so pleased with the results each time! My go to site for all things dye!
Was this review helpful?


1
of
1
users found this review helpful.

8/19/2016
This was my first order from Dharma. I won't go anywhere else!. So glad I found you. The colors! So much better than the ones you buy in the craft store or kits. Better color better quality. I'm putting in another order. I need more colors!!
Was this review helpful?


1
of
1
users found this review helpful.

8/5/2016
Love playing with these! I'm a novice dyer but love experimenting with color and technique. Colors can be easily manipulated to get what I want.I won't be happy until I have ALL the colors!
Was this review helpful?


2
of
3
users found this review helpful.

7/3/2016
Very Bright and Doesn't bleed!! We compared your grocery store brands to this and Dharma is the best!!!! Store brand bled to the white areas while this did not! Buying again as we speak for another fantastic tie dye day!
Was this review helpful?


3
of
4
users found this review helpful.

6/18/2016
Dharma Fiber Reactive Procion Dyes are easy to use and creates fabulous color. I use them for ice dying and low immersion dying on cotton fabric. I highly recommend this product for both beginner and experienced dyers.
Was this review helpful?


2
of
2
users found this review helpful.

5/29/2016
I bout about 16 items (8 outfits) to be dyed. To my horror the second time out some of the dyes just didn't dissolve (it's the reds and fuchsias) and the more I fretted the worse it got. After searching frantically on line and finding only that you're supposed to paste up and then filter through panty hose I came up with the following method for making these dyes work the way they are supposed to with no spots (and I do this with all of them now): 1) Premix the dye the night before (paste it if you want to I don't bother) add extra water (like 8 oz -- I use mason jars) and let sit over night 2) The next day pour what you have through panty hose and add more water to what's left to get the reds (at least twice) 3) Proceed with the next step at your own risk - Heat your salt water on the stove to almost boiling and then add your soda ash to this water dump your filtered dye water in (stir quickly) and move lickety-split to then dumping your salted dye water into the bucket tub that already has about 2 gallons of coolish water. Stir and then dump your wet items to be dyed into the dye water. The reaction happens pretty quickly the reds lag but it's not spotty -- they just take longer. I rated the dyes a 3 because this is a lot of work to ensure that there are no spots on my clothing.
Was this review helpful?


2
of
5
users found this review helpful.

5/25/2016
Used Pewter to dye two IKEA slipcovers that were so faded and stained that they were going to be trashed. They now look like new. Followed tub dying instructions faithfully. Mixed the dye for both covers at one time and then split into 2 portions. Used 50 gallon plastic storage tubs and a child's long handle heavy shovel to mix and stir. Used exact measurements for salt soda ash Calsoline oil and water. Then stirred the heck out of them and used our gloved hands to frequently rearrange the pieces in the tub. Pre and post washed with Synthropol. A two person job that took 6+ hours for two people. They look AMAZING!!! Did each set (4 cushion covers and big base cover) seperately. I really don't think they would have come out so evenly dyed and perfectly matched in the washer. Now I want to do more covers! But IKEA stopped making the all cotton ones. Dang!! Thanks Dharma for a great product and to various internet posters for sharing your dying experience and tips.
Was this review helpful?


2
of
2
users found this review helpful.